Home » Airport Info » Baggage »
Taking Your Bicycle to Mallorca
Cycling in Mallorca
Mallorca is a great destination for cycling enthusiasts. The island offers a diverse range of landscapes, including flat coastal roads, challenging mountain routes, and scenic countryside paths, making it suitable for cyclists of different skill levels.
Due to its mild climate, beautiful scenery, and well-maintained road network, Mallorca has become increasingly popular among cyclists. The island has a variety of cycling routes that cater to different preferences and abilities. From the famous Serra de Tramuntana mountain range with its steep climbs and breathtaking views to the flatter coastal routes along the stunning coastline, there is something for everyone.
It is therefore not surprising, that Mallorca has developed an extensive cycling infrastructure that includes bike rental shops, repair services and hotels specialising in cycling holidays. Some areas of the island also have dedicated cycling lanes. There are numerous cycling events and races that take place throughout the year, attracting both professionals and amateurs.
The best times for cycling are usually spring and autumn. During peak tourist season, the weather can get very hot and the roads are far busier, especially in popular tourist areas.
---
Bringing your own Bicycle
There is nothing quite like riding your own bike in Mallorca! However, getting it there safely requires some preparation.
Check airline requirements
Before travelling, check the specific requirements and restrictions of your chosen airline regarding packing and transporting bicycles. Some airlines may have size or weight limitations, and they may also require specific documentation or additional fees for transporting bicycles. Please also see below for more information.
Packing your bike
When packing your bicycle to take it on an airline, it's important to ensure that it is properly protected and secure to prevent any damage during transit. Here are some steps to help you pack your bicycle for air travel:
Clean and prepare your bike
A good way to start is by giving your bike a thorough clean. This will keep the mess that may be created by removing some of the parts to a minimum.
Remove any accessories that are not necessary for the journey, such as water bottle cages or saddlebags.
Lower the seat post and handlebars to make the bike more compact.
Disassemble and protect fragile parts
Remove the pedals, saddle, and front wheel.
Securely fasten these parts and wrap them with padding or bubble wrap to protect them from scratches or impacts.
Use protective covers or foam tubing to guard delicate components like the derailleur and brake levers.
Protect the frame
Use foam tubing or pipe insulation to cover the frame tubes to prevent scratches and provide additional padding.
You can also use cardboard or foam sheets to create a protective layer around the entire bike.
Securely package the bike
Place the disassembled parts, such as the pedals, saddle, and front wheel, in a separate box or bag.
Place the protected bicycle frame in a sturdy bike travel case or a purpose-built bike box.
Ensure the bike is tightly secured inside the case or box to minimize movement during transportation.
Use additional padding, such as bubble wrap or foam, to fill any empty spaces inside the box or case. This helps prevent the bike from shifting during handling and protects it from potential impacts.
Label and provide instructions
Clearly label the box or case with your name, contact information, and flight details.
It's also a good idea to include instructions for reassembling the bike, especially if you're not the one handling it at the destination.
Have a "Plan B"
Your bike may not arrive on time, so it's good to familiarise yourself with an appropriate rental shop before you leave. Delayed bike arrivals commonly happen at the busiest times, Saturdays being the worst culprit. It's best not to plan competitions or special rides the day after you arrive. To get the cost of a rental bike back, choose a travel insurance provider with this included.
---
Arriving and Departing from Palma Airport with your Bike
Arrivals
When arriving at Palma Airport you will find bicycle boxes are often conveyed on the same baggage carousel as your checked-in luggage. Special baggage is by carousel 17 (you may need to check this). If you can't find your bike, check with your airline or lost luggage in the baggage reclaim zone near to the carousels. It could be that your bike will arrive later.
Departures
If you're departing Palma Airport, go to your airline check-in desk. You will be given luggage labels for your bike to be checked-in there, or you will be directed to the oversized luggage bay.
---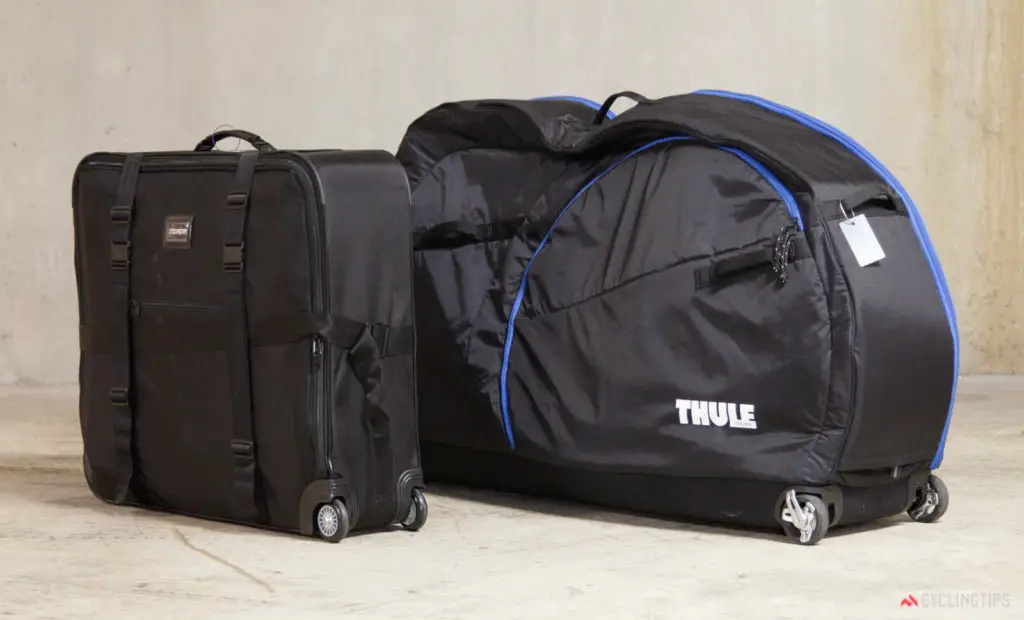 Bikes must be inside a protective bag or box
---
Airline Requirements
Below are the bicycle carriage requirements and fees for two popular airlines operating at Palma de Mallorca Airport. For more information, please check the airlines' websites.
EasyJet
Ryanair
CRITERIA

▪ Use of a bicycle box or bag is obligatory
▪ Maximum of 20kg or 32kg depending on Small or Large sports equipment allocation purchased
▪ Only one bicycle per box is permitted. No other items (e.g. clothing) can be inside the box.
▪ The handlebars and pedals must be flush with the frame or removed.
▪ Hydraulic suspensions or brake systems on a bicycle is OK.
▪ Electric bikes are not permitted

FEES

▪ Small sports equipment allocation 20kg booked online is £37 or £47 paid at the airport.
▪ Large sports equipment allocation 32kg booked online is £45 or £55 paid at the airport.
CRITERIA

▪ Bicycles must be inside in a protective bike bag or protective box
▪ Bicycles maximum weight limit is 30kg
▪ No electric bikes with batteries

FEES

▪ Purchased initial flight booking £60 or €60 one-way
▪ Purchased at a call Centre or at the Airport £75 or €75 one-way
---