Home » Airport Info »
Departing from Palma Airport
If you arrive at the airport by car, you will find that there are plenty of parking options. From the multi-storey car park, use the tunnel on floor 4 of the car park to get directly to departures. If you're arriving by bus or taxi, you can be taken directly to departures. Car rental return is on the ground level of the main car park (follow PO).
Public Departures Hall and Check-In
Online Check-In
It's now possible to check in online with almost all airlines. With some airlines, check-in is open for several weeks, while others have a check-in window of only a few days prior to departure. Online check-in can usually be completed up to 2 hours before your scheduled departure. Remember to print your boarding pass or save it on one of your mobile devices (phone or tablet) when you check in online.
If you are travelling only with hand luggage, checking in online will allow you to proceed through the airport more quickly. Once in the departures area of the main terminal building, just follow the signs to the security checkpoint on level 4. Present your e-ticket/boarding pass to be scanned and make your way through the security checkpoint. Then head towards your module (A, B, C, or D) for boarding.
If you've checked in online and have hold luggage, you'll need to locate your airline's check-in desk, where you can drop off your luggage before heading to security.
Check-In at the airport
If you haven't checked in online, you can of course still do this at the airport. The check-in desks are on level 2 of the main terminal building. To help you find your way around more easily, the check-in area is divided into different zones (A to F) and each check-in desk has an individual number. Take a look at the monitors to find out which check-in desk is assigned to your flight. A staff member at the desk will complete the check-in for you and issue you with your boarding pass.
Palma Airport has a number of automatic check-in machines for selected airlines. Check with your carrier beforehand. They are located on floors 2 and 4. The majority are next to the desks for check-in. You can then check-in and print off your boarding pass.
After check-in, you can make your way to level 4 of the main terminal building and pass through security and on to your boarding module and gate.
Arriving from a cruise ship
If you are arriving from a cruise ship it's possible to get your boarding pass and check in your luggage at the seaport. For more information on how the procedure works and using this facility, you may need to communicate with your cruise line and follow their guidance.
Oversized objects / bicycles
You will need to go to your regular check-in desk and check in larger objects. They will supply you with the appropriate luggage labels for your oversized luggage and direct you to the oversized luggage bay.
Eligible for a tax refund?
If you live outside the European Union and you are leaving the EU on your flight from Palma Airport, you may be eligible for a tax refund. Please see our page Tax Refund at Palma Airport for more information.
Time to spare?
There are a number of shops and restaurants on floors 2 and 4, near security, where you can spend some last-minute time with friends and family who aren't travelling. There are also many more beyond security but for passengers only. For more information see "places to eat and drink".
If you want to browse the web or catch up with your e-mails or social media, you can make use of the airport's wifi. Read more about the different options and how to access the Palma Airport wifi.
On the 4th floor, close to security, there is a large terrasse with plenty of benches and greenery. If you have time to spare, this is a good spot to relax and catch the last few rays before your flight. Smoking is permitted on the terrasse.
Security Check Point
The majority of passengers will use the security checkpoint on level 4. However, there is another security checkpoint on level 2, which is used on some occasions.
As usual, when passing through the checkpoint, passengers will be asked to show their boarding passes. These can be presented either in a printed version or displayed on a mobile device like a tablet or mobile phone. Both options will allow the security staff to scan the boarding pass.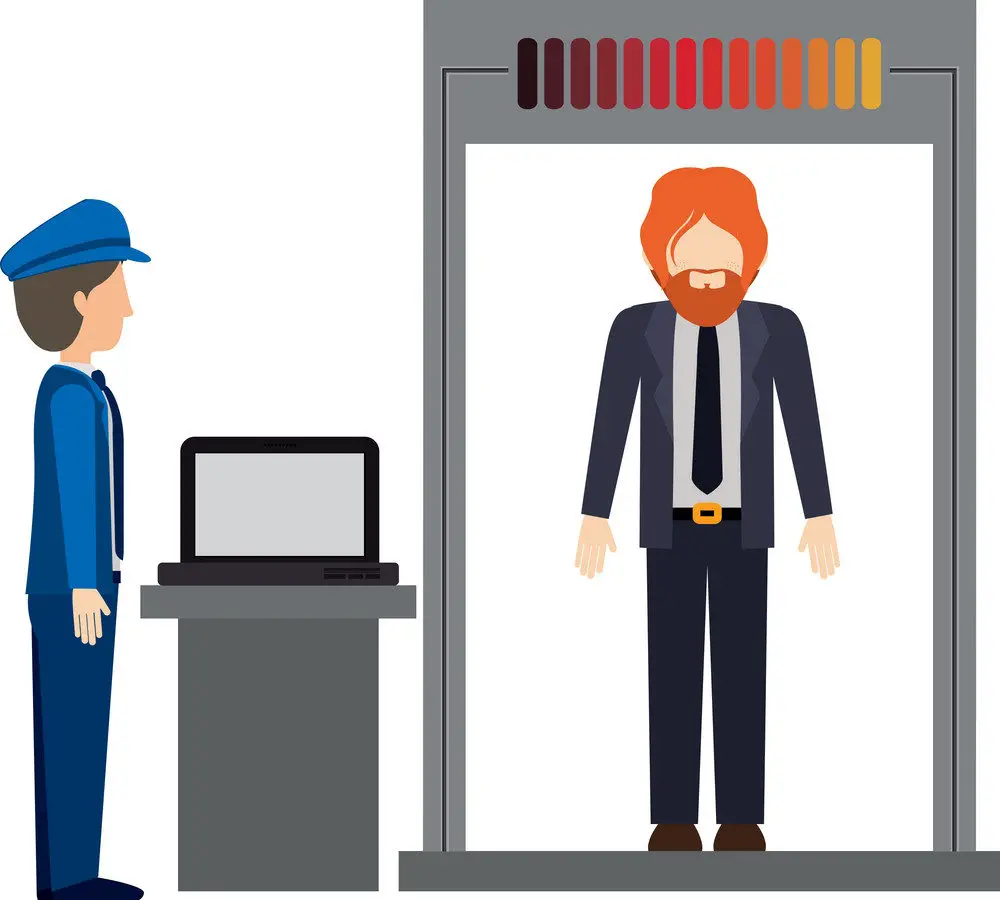 Following this, your hand luggage, including your jacket, mobile phone, hat, etc needs to be placed on one or several plastic trays to allow it to be x-rayed. All passengers will have to walk through a metal detector.
Find some useful tips on how to get through airport security control as quickly as possible.
Airside / Passenger-Only-Area
Once you have passed security control, you are on the "airside" of the airport, the area only security-screened passengers have access to. You will enter the duty-free section and find a great variety of shops and stores, bars, and restaurants. At this point, you will still be in the main terminal building and will need to proceed to your module when the time comes to get to your boarding gate.
Passport Control
Europeans who have national ID cards may be able to use these for travel to other European countries. However, many travellers will be required to present their passport, as is the case for all non-Schengen nationals. Please familiarise yourself with the entry requirements to the country you are travelling to in good time before your journey.
If you are unsure, you may wish to enquire with your airline. Permission to board flights bound for countries with entry restrictions may be declined without the correct documentation. If you are travelling to the UK, please also see our related page "Brexit – Travel between the UK and Mallorca".
Modules
The boarding gates at Palma Airport are located in the four adjoining buildings, modules A, B, C, and D. There you will additionally find several Duty-Free Express shops, which are smaller than the main duty-free area just after security control. There is also a variety of shops, bars, and restaurants.
Check one of the many information screens to see which gate your flight will be boarding from. Knowing as soon as possible from which gate you are boarding from is a good idea, due to the distance from the terminal to your module. The gates are easy to find. Although there are four modules, the gates are numbered the same as any other airport but with the addition of the letter of your module, i.e. A1-28 or C50-59 for example.
There are many elevators, escalators, and pedestrian conveyor belts to help make this transition as quick and easy as possible, but be aware it may take up to ten minutes at busy times. People with limited mobility can request assistance, although this must be done in advance. You can find more information on this topic on our Disability Assistance page.
Airport Lounges
If you are not too keen on all the hustle and bustle at the airport and you would rather spend your waiting time in more relaxing surroundings, why not visit one of the four airport lounges? In order to gain access to these, you can pay an admission fee at the door or you can book a Palma Airport lounge ticket in advance and at a reduced price.
Boarding
Once in your boarding module, if you haven't had time to shop or refresh yourself beforehand, you can do so here. There are plenty of places to eat and drink and shops to browse while waiting to board your flight.
It is important to be at your gate in good time. Your boarding time is printed on your boarding pass and you should also check the information screens at regular intervals in case of any changes. Late arrival at the boarding gate could mean that the gate is already closed in which case you will no longer be able to board the flight!
As normal, when boarding your flight you will be asked to present your ID and boarding pass. On some boarding gates, you will find an "air-jetty" walkway, which allows you to walk straight onto the plane. Certain flights require a short walk, including stairs, to the aeroplane from the gate, others involve a short bus transfer from the module to the aircraft.
Should the thought of flying make you a little nervous, do take a look at our infographic "How safe is flying?"!
Please also see our page "Covid 19 – What you need to know when travelling via Palma Airport".