Home » Airport Info » Baggage »
EU Cabin Regulations
This section will help you to see what you're allowed to take on the plane and store in the cabin. Always check your carrier rules and regulations in advance of flying, particularly when transferring to another airline during your trip. Some limitations may vary by airline and country.
All flights departing from airports in Switzerland and the European Union are under the EU regulations for hand baggage. Hand baggage will be screened when going through airport security.
Liquids
Liquids or items of a similar consistency are obligated to be in a vessel no more than 100ml. (3.4 ounces) A 200 ml container half-full is not permitted.
All the liquid single containers must be packed into a single, transparent, re-sealable plastic bag of up to 20cm x 20cm with a litre total capacity. You must be able to completely close the bag. Some freezer bags with zip-fasteners may be appropriate. During security screening, the bag of liquids must be taken out of your hand luggage and passed through the scanner separately. The plastic bag must fit in your hand luggage.
How do we define a 'liquid'? Any liquid or substances of a similar consistency such as lotions, gels, pastes. This would include products such as toothpaste, aerosols, shaving foam, hairspray or cologne.
Resealable plastic bags for liquids can be purchased just before the main security checkpoint on floor four of departures.
---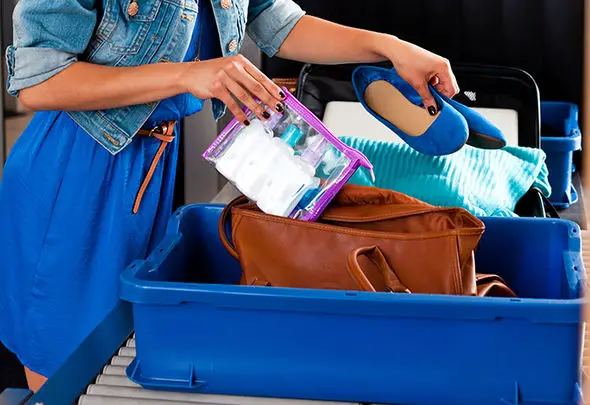 Liquid containers must be packed into a transparent, re-sealable plastic bag.
---
Medication and baby foods
With an infant, you are allowed to transport sterilised water, baby milk, powdered milk, and baby food as required for your flight. It is permitted to exceed the limit on liquids. They do not need to fit in the plastic bag. Passengers must present these items at security, separated from the other hand luggage.
Liquid medicines are permitted as required for your flight. They should be ready for inspection by airport security but don't need to be in the plastic bag.
Duty free goods
Duty-free goods, bought on the day of the flight in a store following the main security check point are allowed. They must have proof of purchase, date and place of sale and be in a transparent bag sealed by the sales outlet.
Electronic devices & clothing
Electronic devices such as tablets, phones and laptops need to be screened separately. Items of clothing such as coats, jackets, metal belts and metal objects in pockets will be required to be removed and screened during the security check.
Prohibited items
The list below of prohibited articles for hand baggage is not all-inclusive. Common sense would dictate what items are not allowed on board. Below is a summary of EU prohibited items.
The following items should only be in checked baggage:
Razor blades
Cutlery
Knitting needles
Scissors and syringes (except certified medical purposes)
Toy guns
Catapults and toys that could be used as a weapon
Sports and leisure equipment that could be used as a weapon
The following substances are not permitted on board:
Explosives, ammunition or weapons of any kind as well as blunt or pointed objects.
Radioactive material
Compressed gases
Caustic and corrosive
Magnetising substances
Flammable or toxic substances, Lighters filled with lighter fluid.
The following articles are allowed but only in cabin hand luggage:
Individual lithium rechargeable and non-rechargeable batteries as spare cells for portable electronic devices such as mobile phones, laptops, cameras or watches etc. Check with your airline for specifics. Short-circuits must be prevented and you are obligated to individually protect spare batteries.