Home » Airport Info »
Palma Airport – General Information
Contact and operational details
Address and phone number
Son Sant Joan,
07611 Palma de Mallorca
Islas Baleares
Telephone: (+34) 91 321 10 00
Airport code
PMI
Airport operator
Aena
Location
The airport is located in the south of the island just next to the Mallorcan capital Palma, around 8 km east of the city centre and adjacent to the village of Can Pastilla.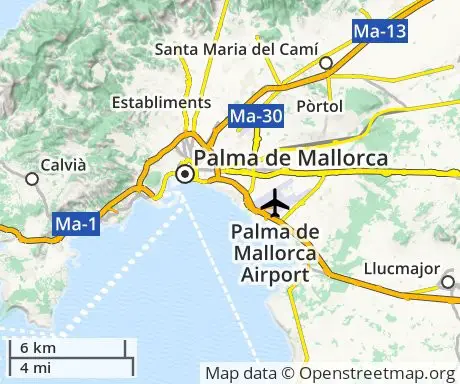 ii
---
General information
Passengers and passenger numbers
This busy international airport is the third-largest in Spain in terms of passenger volume, after Madrid-Barajas and Barcelona – in non-pandemic times, it is used by around 30 million passengers per year. By nationality, Germans account for the largest passenger numbers, followed by Spanish and British nationals.
Airlines and destinations
Currently, a total of 65 airlines operate at Palma Airport; these are flying to 144 destinations around the world. The number of airlines, as well as the destinations they serve, is expected to grow again as the impact of the global pandemic is lessening.
Size and layout
The airport occupies an area of 6.3 km²; it has 2 runways and 96 aircraft parking stands.
Passengers enter and exit the airport through the central terminal building, which is also where luggage is checked in and collected. There are 195 check-in counters and 19 baggage reclaim carousels.
The departure lounges, 4 VIP lounges, and a total of 83 boarding gates are found in the four adjoining buildings called "modules" A, B, C, and D.
Additionally, there are three cargo terminals and the Executive Terminal area, which serves private aviation. This consists of the General Aviation terminal building and 49 stands for private aircraft.
Palma airport offers plenty of car parking options and there is a multitude of on-site and nearby car hire companies to choose from. There are also regular bus connections to the city centre and to various destinations across the island.
Accreditations
"Corona safe" status
Palma de Mallorca Airport has been awarded the "Airport Health Accreditation" (AHA), giving it a "corona safe" status.
Best Airport in Europe
This award was given to Palma de Mallorca Airport by the Airports Council International (ACI) in the category of airport facilities catering for between 25 and 40 million passengers per year.
---