Home » Airport Info »
Palma Airport – General Information
Address:
Son Sant Joan,
07611 Palma de Mallorca
Islas Baleares
Phone numbers:
(+34) 91 321 10 00 / 902 404 704
Airport code:
PMI
Airport operator:
Aena
Location: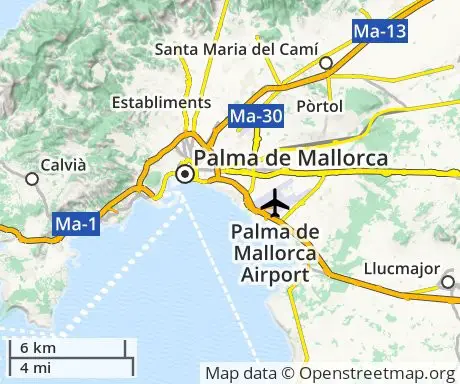 ii
The airport is located in the south of the island in the Mallorcan capital Palma, around 8 km east of the city centre and adjacent to the village of Can Pastilla.

General Information:
This busy international airport is the third-largest in Spain in terms of passenger volume, after Madrid-Barajas and Barcelona – in 2017 it was used by 27.9 million passengers. By nationality, Germans account for the largest passenger numbers, followed by Spanish and British nationals.
In 2017, the airport was served by a total of 71 airlines, with connections to 174 destinations in 30 different countries.
The airport occupies an area of 6.3 km²; it has 2 runways and 96 aircraft parking stands.
Passengers enter and exit the airport through the central terminal building, which is also where luggage is checked-in and collected. There are 195 check-in-counters and 19 baggage reclaim carousels.
The departure lounges, 4 VIP lounges and a total of 83 boarding gates are found in the four adjoining buildings called "modules" A, B, C and D.
Additionally, there are three cargo terminals and the Executive Terminal area, which serves private aviation. This consists of the General Aviation terminal building and 49 stands for private aircraft.
Palma airport offers plenty of car parking options and there are a multitude of on-site and nearby car hire companies to choose from. There are also regular bus connections to the city centre and to various destinations across the island.