Car hire at
Palma Mallorca
Airport
Receive your car inside Palma Airport
Low-cost Mallorca Car Rental
Compare ALL Palma Airport suppliers!
Special deals on many cars
Free cancellation & upgrades
CAR HIRE at Mallorca Airport
Avis, Alamo, Enterprise, Europcar, Goldcar, Hertz, Record Go, Rhodium, Sixt and Thrifty are car hire companies based inside Palma de Mallorca Airport. Each car hire company has offices inside arrivals on the ground floor.
In the slider below we show some example daily car hire prices with the best car rental companies at Palma de Mallorca Airport. The daily car rental prices are based on hiring a car in summer for a period of 14 days.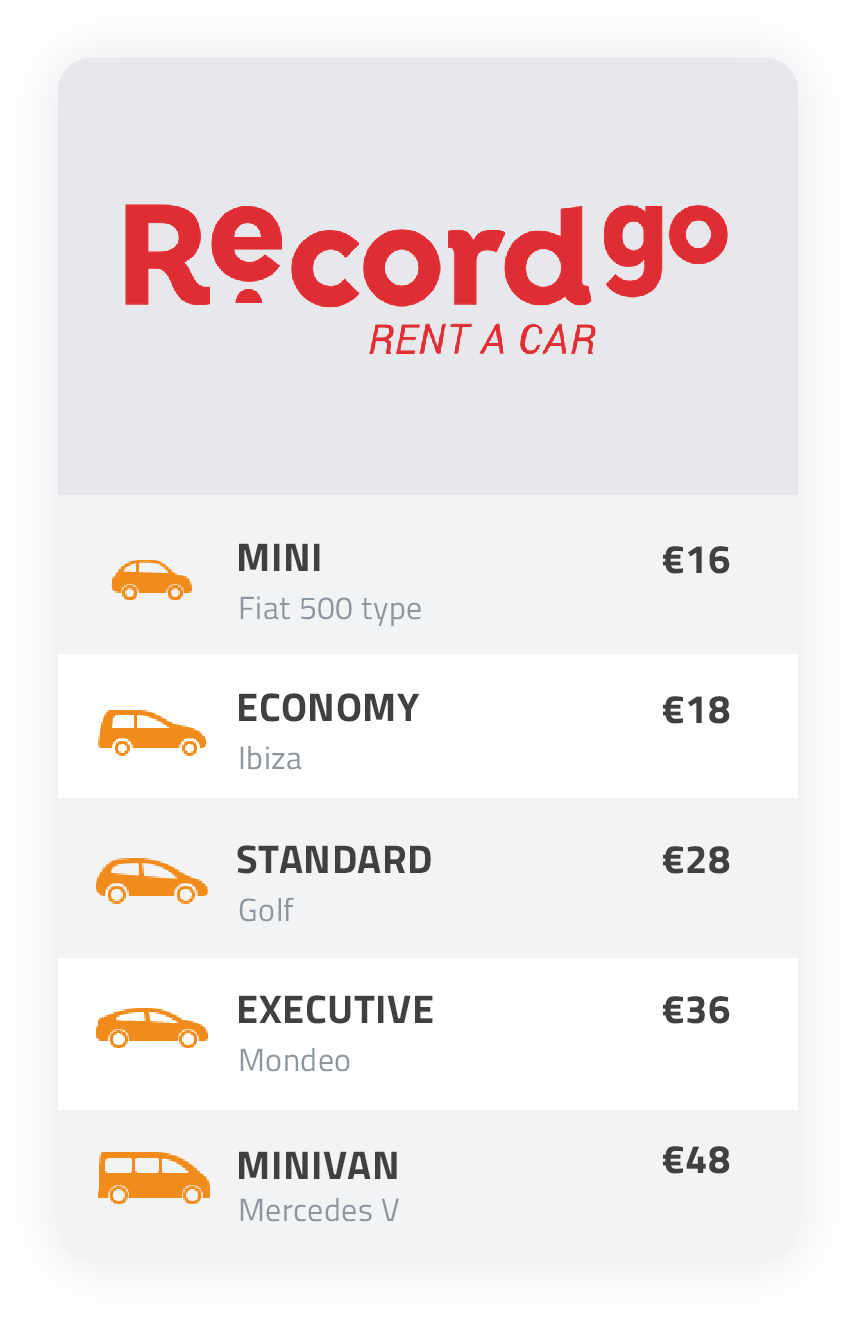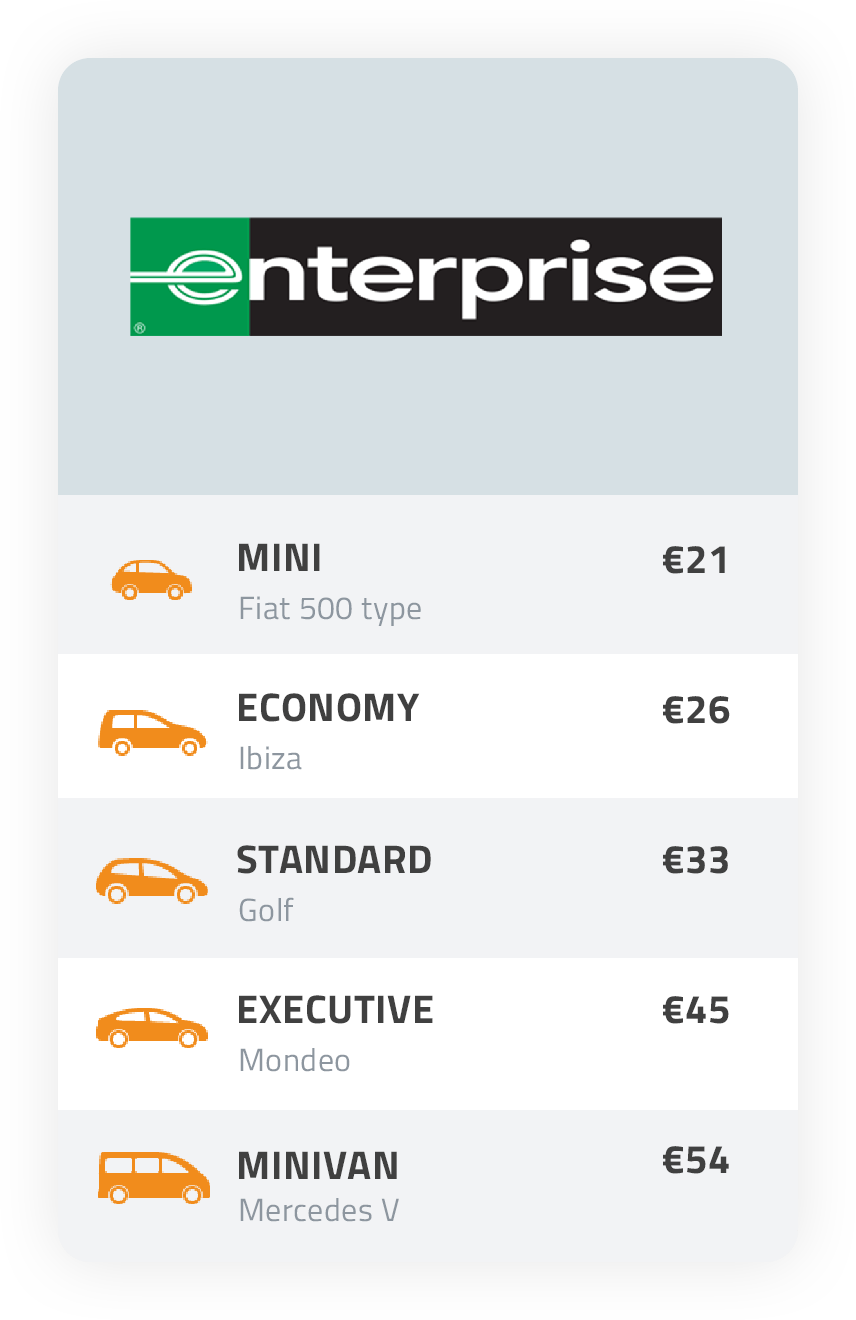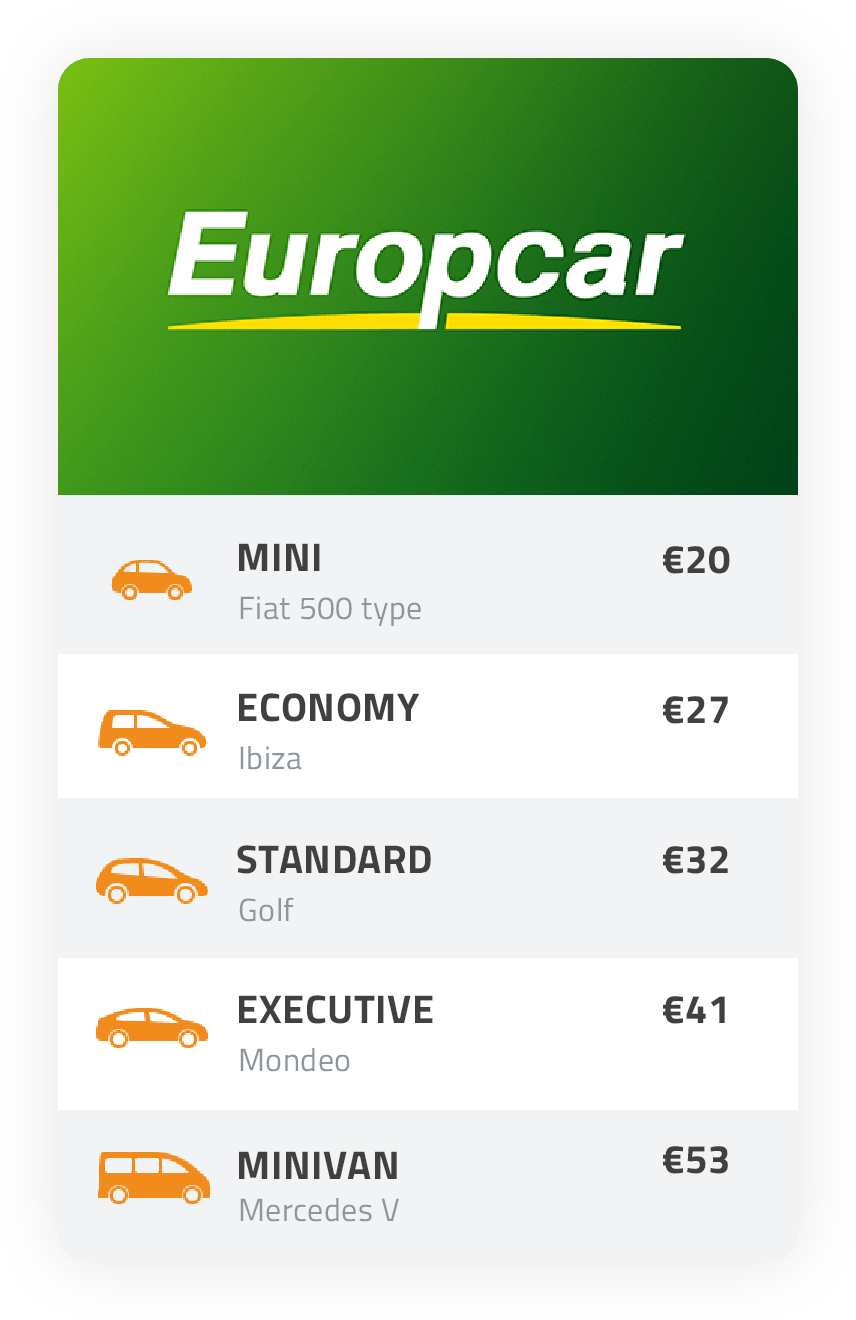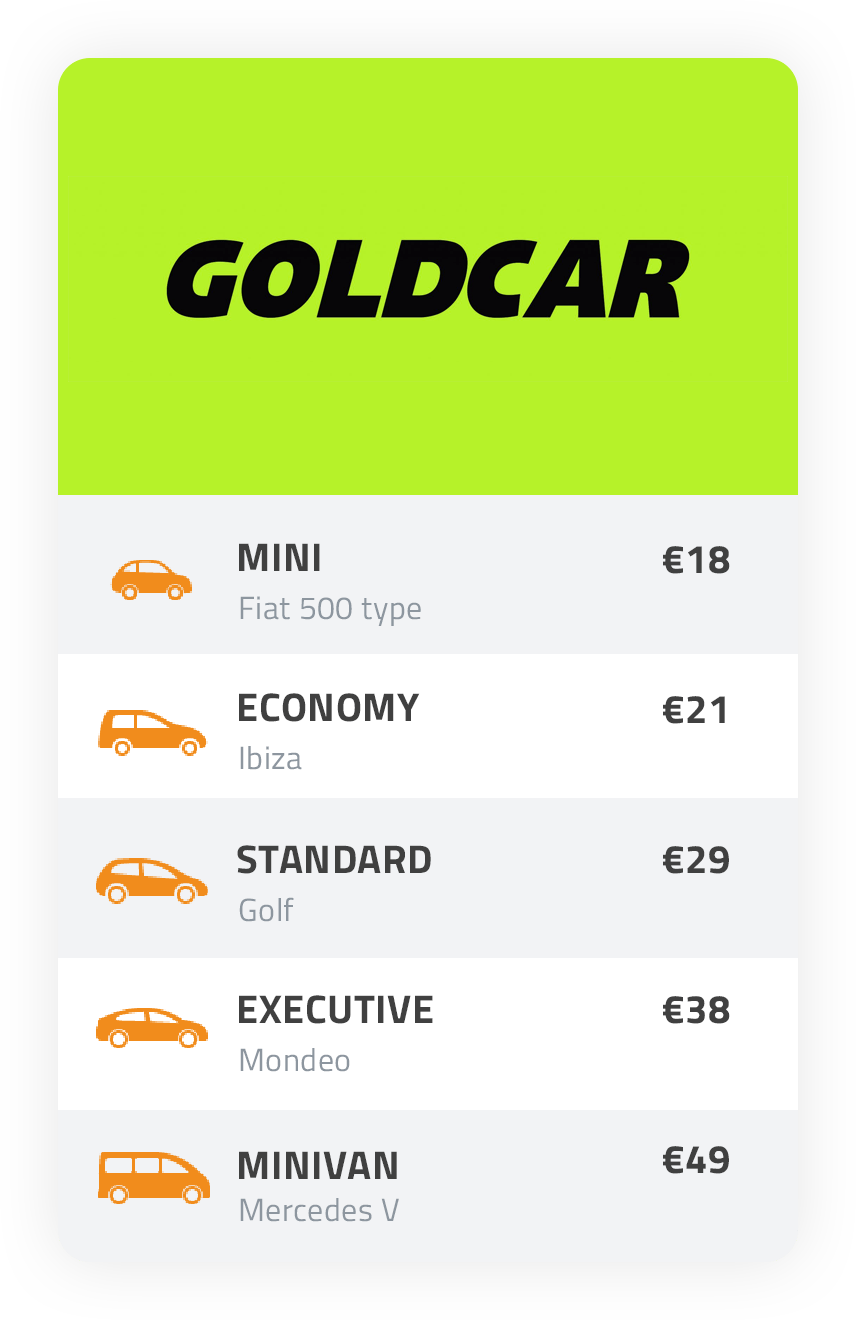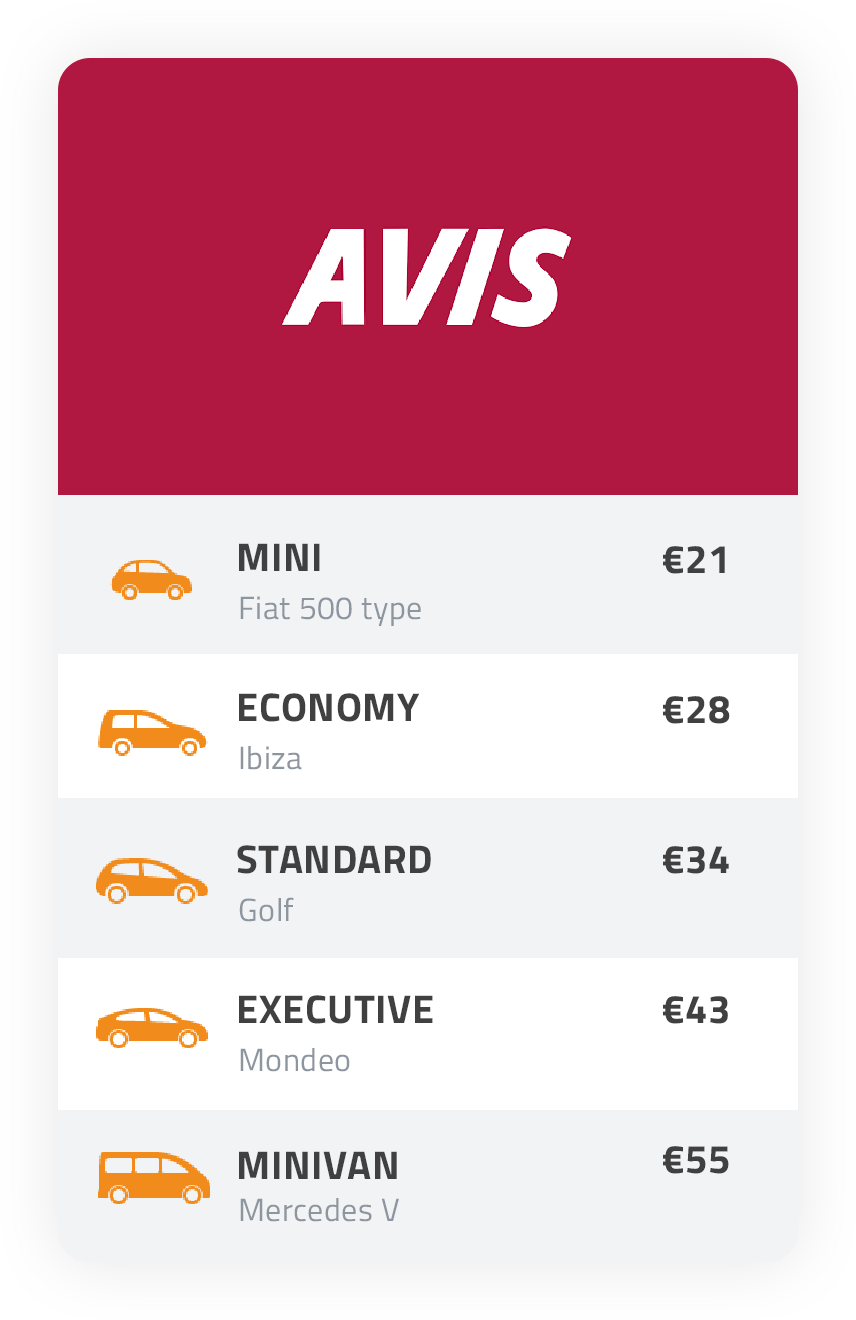 Be aware that prices can differ greatly for car hire at Mallorca Airport depending on the time of year, type of car, fuel policy and extras.
Extras that you choose such as child seats, GPS, additional drivers and WiFi will normally be added to the daily cost and can make the total price increase considerably.
Choosing car hire
at Palma Airport
Hiring a car at Palma Airport is the best way to really get to know the island of Mallorca. To make your experience run as smoothly as possible, we've put together a comprehensive guide on everything you need to know about car hire in Mallorca.
Which type of car you hire largely depends on how many of you are travelling together, whether you're travelling with luggage, your budget and where you plan to visit in Mallorca.
If you've got limited finances to work with and are travelling as a couple with only hand luggage, a Fiat 500 or something similar will do the trick perfectly.
But if you're travelling as a large group with a lot of luggage, a tiny three-door car isn't going to cut it. A people carrier might be better for you. You don't need to know exactly which model you want to hire. Just having an idea of your requirements will be enough to help you chose the right car hire at Palma Airport.
When to book your Mallorca car hire
Pre-book

Online
It's best to book Mallorca car hire online in advance as you get access to a much greater range of cars and discounted early bird rates. Compare prices between different car hire companies using price comparison to guarantee you're getting the best deal.
The phrase, "If it seems too good to be true, then it usually is" applies when it comes to booking car rental. If you see a price that seems too cheap to be real, have a read of the terms and conditions. Chances are there's a clause that says you agree to pay excessive rates for petrol or the likes.
On arrival

At Palma Airport
You can hire a car directly from Palma airport without having pre-booked, after you land. There are plenty of desks in arrivals run by various operators.
Keep in mind that car rental prices are higher when you book on the same day compared to pre-booking ahead of time. So try to plan ahead and save money.
Mallorca Car Hire Fuel Policies
Fuel policies differ, not only between rental companies, but also between the type of rental contract you take out. Carefully read the finer print and weigh up your options.
This means you collect your rental car with a full tank and you return it with a full tank. Fairly easy at Palma Airport as there are plenty of petrol stations close by. Just don't forget to fill up, otherwise you'll likely be charged the cost of a full tank, even if you're only a bit short of a tank. This option can work out cheapest overall, even though you may pay more to begin with.
With a pre-purchase fuel policy you buy a full tank of fuel when you collect your rental. The car hire company dictates the price of the fuel. You won't get any refund for unused petrol. It's not your best option if you're not going to use the car much, but it might work out ok if you're going to be doing a lot of driving and don't want to be filling up on return.
Your hire car will have a full tank of petrol when you pick it up from Palma Airport and you'll have to pay the full cost for it. Again, the car hire company sets the price fo fuel. When you return the car, the cost of the remaining fuel will be calculated and refunded to your card, minus an admin fee according to the rental contract.
Insurance
PMI Car Hire Insurance and Breakdown Cover
Most car rental companies include cover for damage and theft in with the rental price and some even include basic breakdown cover. But remember, if you claim on the insurance, you'll have to pay excess. As always, check the small print so you know what you're up against and drive with caution.
When you collect your car, make sure you've got a credit card (not a debit card) on you. This card will be used to block the excess amount until you return the car. Return the car without any problems and the block will be removed. Return the car with damage and some or all the money could be deducted.
You can usually get out of paying the excess by increasing your insurance level. When you pick up the rental car, the staff will probably try and upsell you enhanced insurance, but they're never the cheapest. You can pay much less if you arrange Car Hire Excess Insurance in advance. You can get a whole year of excess insurance for around €40 per year. Obtain a quote online with iCarhireinsurance.com.
Extras
There are plenty of optional extras you can add to make your driving experience in Mallorca smoother and more comfortable. Most extras are charged per day and they can end up doubling the cost of your car rental! That's why it's worth thinking about whether you really need the extras and if there are alternatives, such as bringing your own child seat or using Google maps on your phone.
Available extras with Palma Airport car hire:
Petrol Stations
Near Palma de Mallorca Airport

If you need to return your car with a full tank, the closest petrol station is a Repsol garage close to the airport's exit. To get there, you'll need to drive past the car rental drop-off point, past departures, take the first exit on the right and continue along that road until you reach it.
Airport service stations are never the cheapest. So you're better off filling up at one of these service stations close to the airport instead:
Repsol, Camí de Son Fangos, 151 …………..……..3km away
Repsol, Camí de Can Pastilla, 35 ……………………5km away
BP, Carretera Palma – Porto Petro, Km 10 …….5km away
Requirements to hire a car at Palma Airport
A lot of car rental companies at Palma Airport won't accept drivers under the age of 21. Anyone aged 21-25 can expect to be restricted to entry-level cars and pay a young driver supplement. Senior driver supplements (generally over 70 years) also exist with age requirements differing from company to company. Some request senior drivers to take out additional insurance.
How to cancel your hire car
Most companies let you cancel your car hire for free up to 24 hours before you're due to pick it up. Others will charge a fee. Make sure you check the company's cancellation policy on the rental agreement before you book to avoid nasty surprises.
Pick-up and drop-off times
You can easily save some cash by being clever about your pick-up and drop-off times for when hiring a car at Mallorca airport. One day is a full 24 hour period. So if you collect your car at 10am on Monday and return it at 11am on Tuesday, that works out at 25 hours and you'll be charged for two days' rental. Save cash by arranging to return your car at least one hour earlier than you picked it up.
It's also important to note that you'll be charged extra for collecting your car during certain hours. Most companies charge a considerable fee for collections between 11pm and 7am, while some don't let you pick your car up at all out of office hours. So be aware if you're planning on arranging car hire when you land after a late flight, your options are going to be expensive and restricted.
Collecting your car
at Palma Airport
When it's time to collect your car from Palma Airport, have your passport, credit card, driving license and booking confirmation (if you booked in advance) handy to speed things up. If you're from the UK, you'll also need to obtain a code from the DVLA and show it at the rental desk.