Car hire at
Mallorca Airport
Pick up your car INSIDE Palma Airport
Mallorca car hire from €5 per day!
Compare ALL Mallorca suppliers
Discounts for Summer 2023
Free cancellation & upgrades
CAR HIRE at Mallorca Airport
There are a number of car hire rental desks right inside Palma de Mallorca Airport including Avis, Alamo, Enterprise, Europcar, Goldcar, Hertz, Record Go, Rhodium, Sixt and Thrifty. They can be easily accessed in arrivals, located on the ground floor of Palma Airport.
Below are the daily car hire prices car rental companies are offering at Palma de Mallorca Airport. These prices are based on a 14-day rental period in 2023. Please be aware that car rental prices in Mallorca can fluctuate on a daily basis.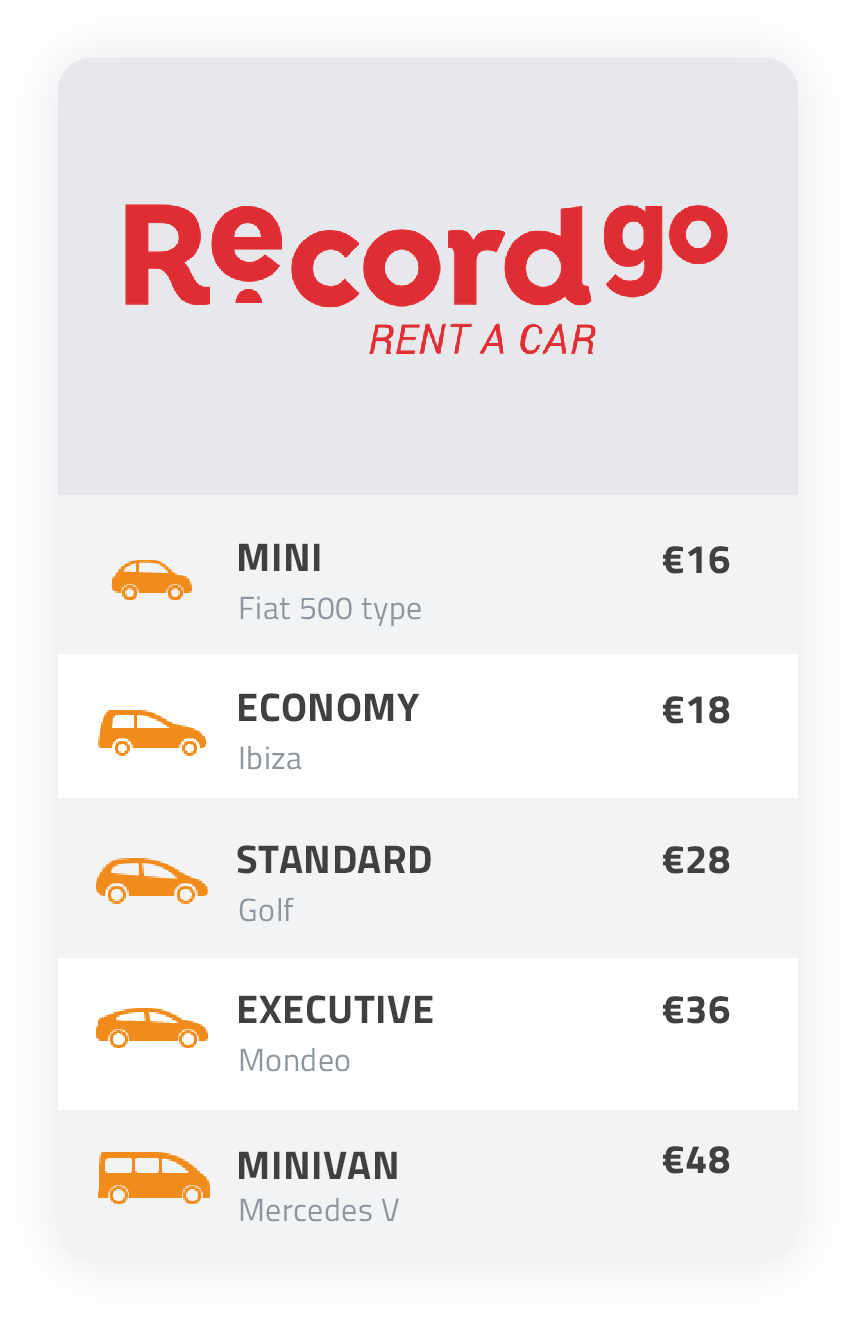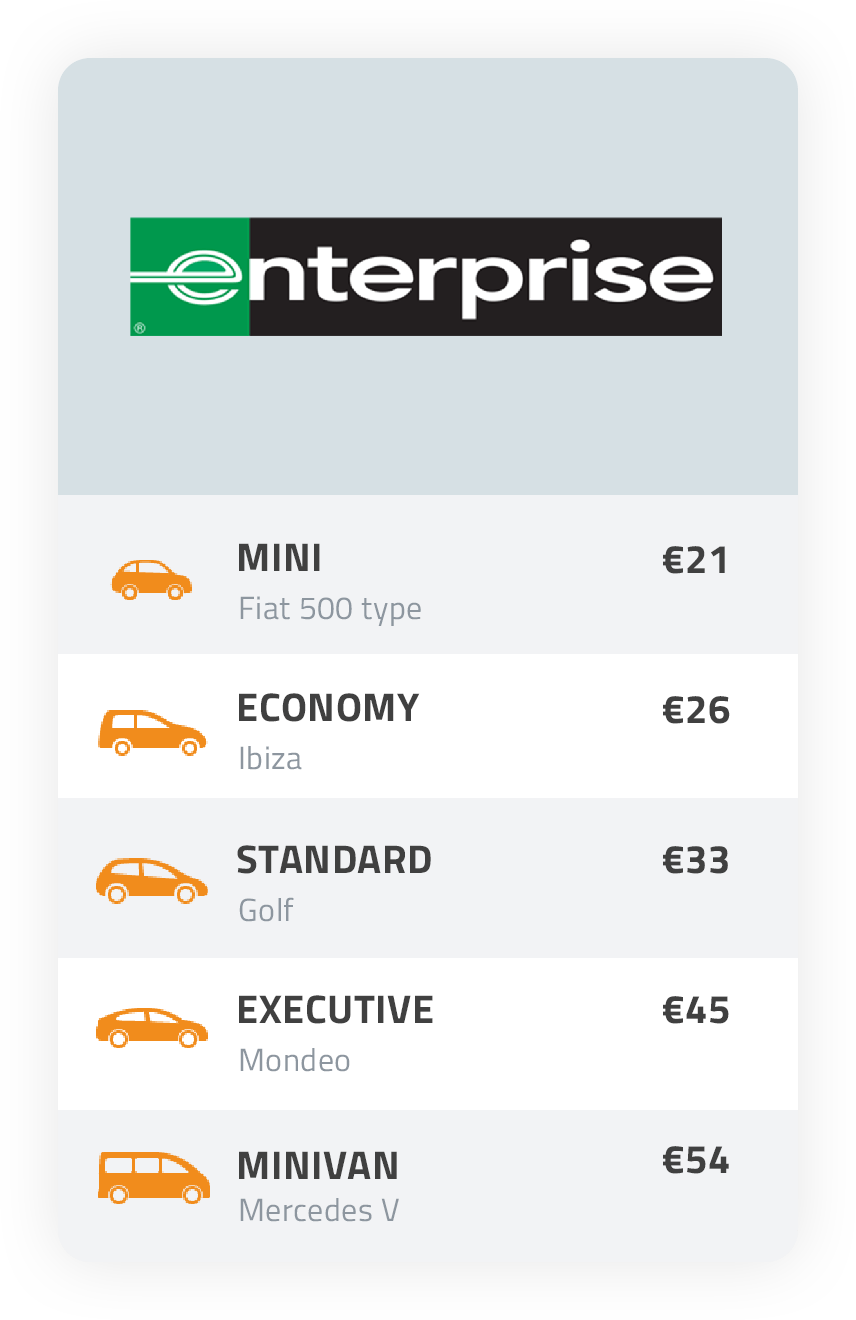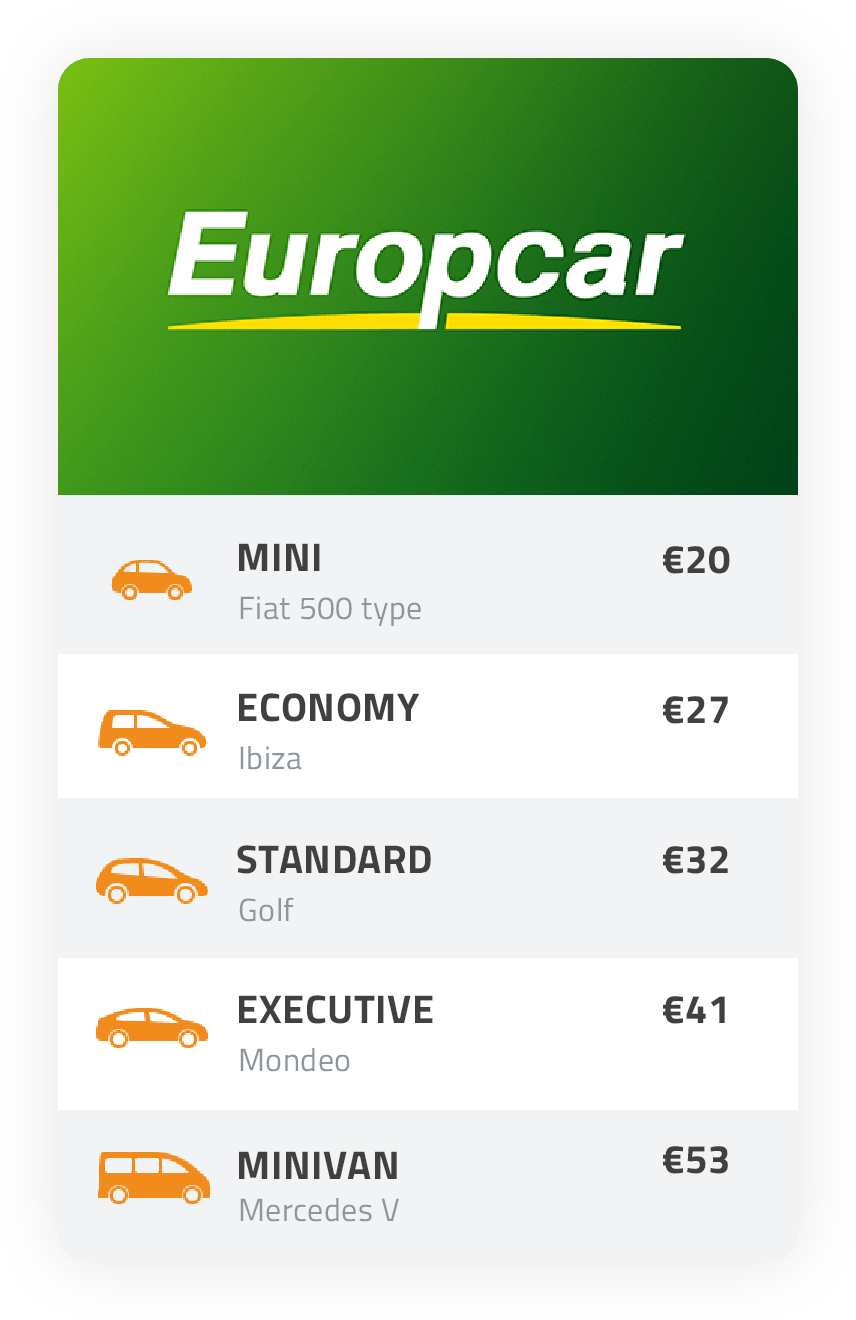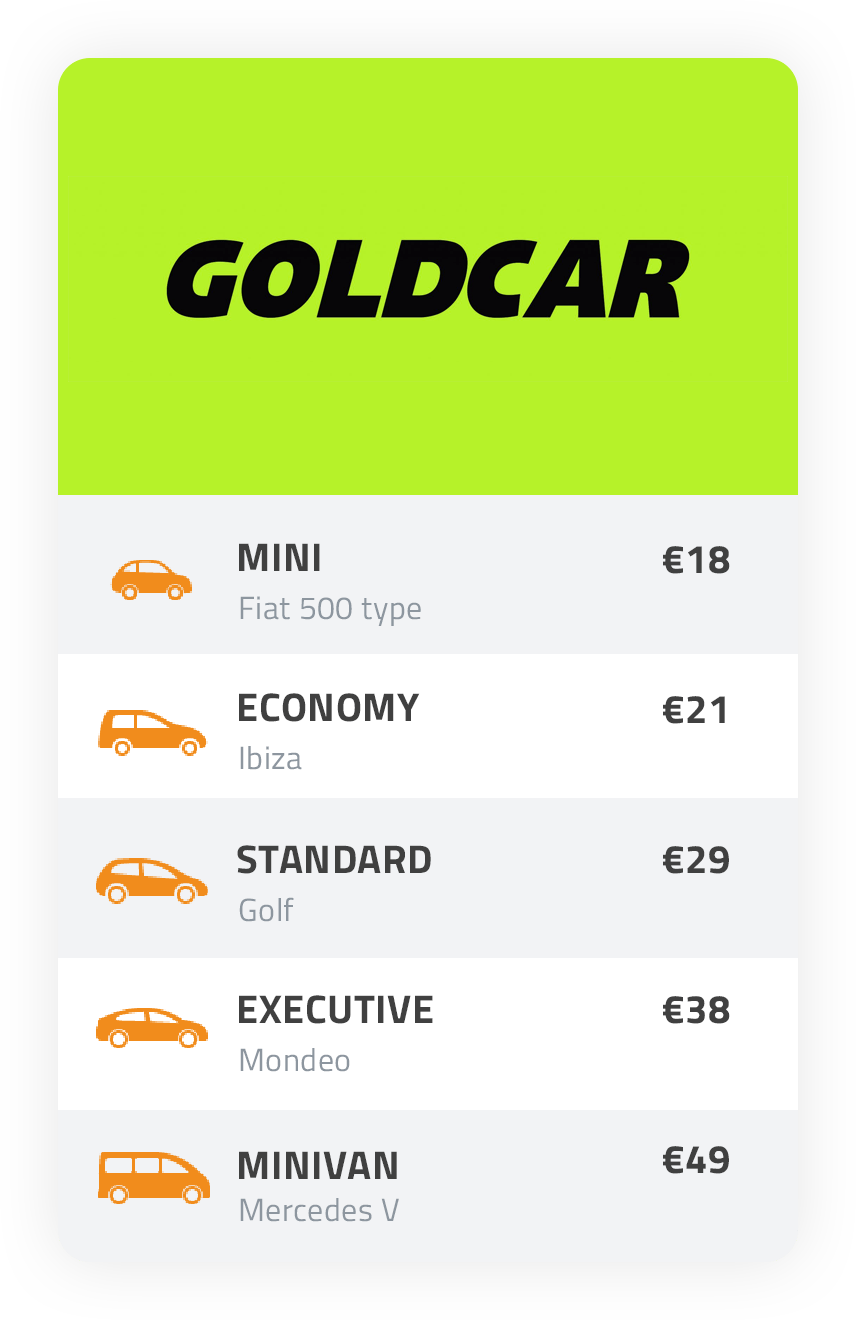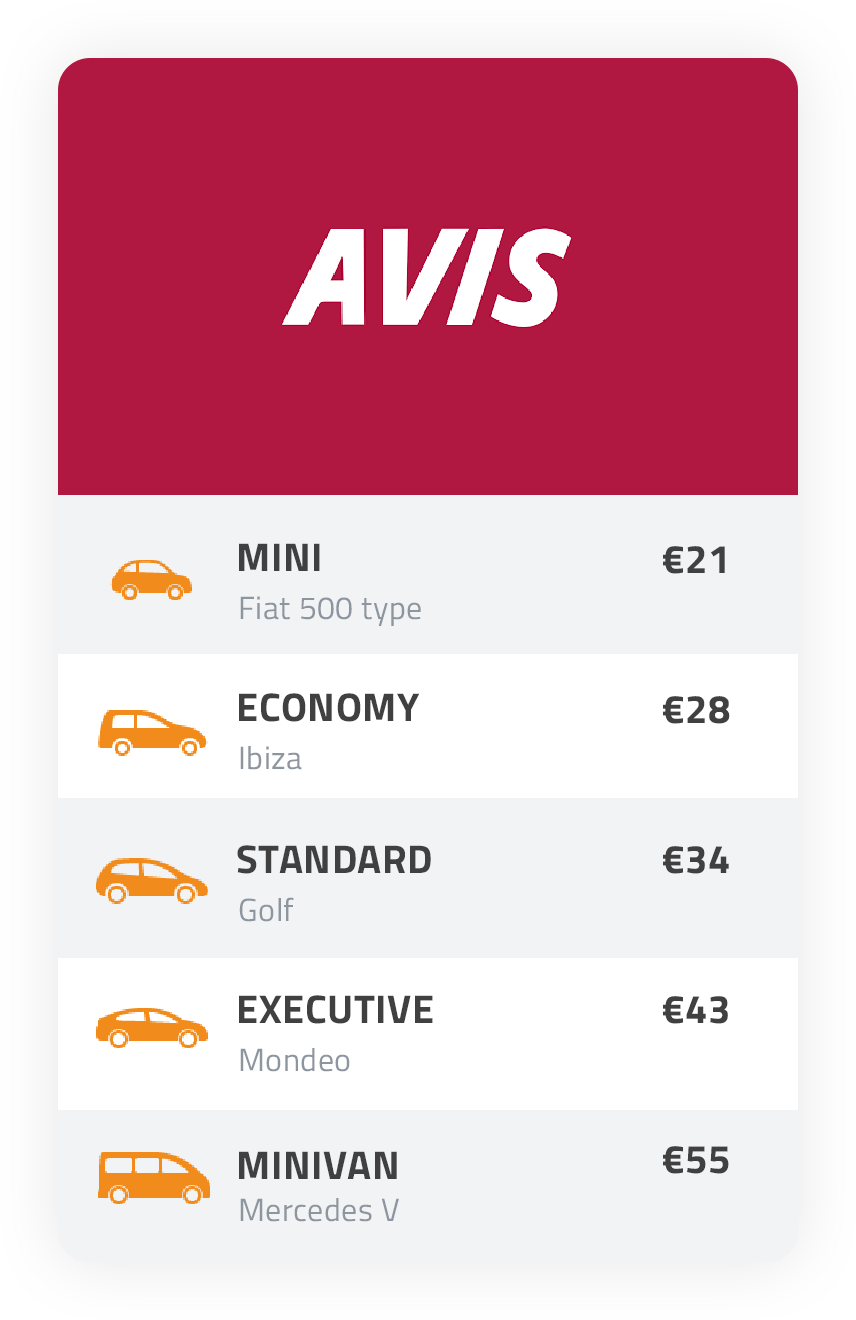 Please note. Car hire prices at Mallorca Airport can fluctuate depending on the time of year, choice of car, fuel policy, and added extras.
Extras such as child seats, GPS, additional drivers and WiFi are usually added to the daily cost of the hire price and can result in the initially quoted price increasing considerably.
Hiring a Car
at Mallorca Airport
A car is the most popular way to get to your accommodation and really get to know the beautiful island of Mallorca. Other alternatives include taxis, pre-booked private transfers, and buses.
Below you will find a comprehensive guide on everything you need to know about hiring a car in Mallorca in 2023.
The type of car you need largely depends on how many of you are travelling, the amount of luggage, your budget, and whereabouts on the island you are planning to go to. If you are still unsure about the last of those, make sure you check out our tips on places to visit in Mallorca further down this page!
If you've got limited finances to work with and are travelling as a couple with only hand luggage, a Fiat 500 or something similar will get you around Mallorca perfectly.
If you're travelling as a larger group with more luggage than the Kardashians however, a tiny three-door car isn't going to result in a harmonious holiday. You would be better served to opt for a people carrier.
Don't worry if you are unsure about the exact make or model you want, just having an idea of your requirements will help you choose the right car to hire at Mallorca Airport.
When to Book Your Mallorca Car Hire
Pre-book

Online
It's always best to pre-book your car hire in Mallorca online in advance, as you get access to a much greater range of cars and discounted early bird rates. Use the comparison tool above to compare prices and deals for all of the different car hire companies in Mallorca
When looking for your car rental, if a price seems to be way cheaper than any others be aware. If a price seems too good to be true, then more often than not it is. Read the terms and conditions thoroughly, there is a very real chance you will end up paying excessive petrol rates or the deal will come loaded with other "hidden" extras.
On arrival

At Palma Airport
Even if you haven't booked beforehand, you can hire a car at Palma de Mallorca airport from any of the numerous desks located in the arrivals hall.
It is worth noting though, that car rental prices are higher when you book on the same day compared to pre-booking in advance. So try to plan ahead to save yourself some money.
Mallorca Car Hire Fuel Policies
Fuel policies differ, not only between rental companies but also between the type of rental contract you take out. Make sure you read the small print and weigh up your options. Any contract will be one of the following:
This means you collect your rental car with a full tank and you return it with a full tank. This option is made very easy at Palma Airport as there are plenty of petrol stations close by. Just don't forget to fill up before returning your car, otherwise, you'll likely be charged the cost of a full tank, no matter how much fuel is still left in it. This option often works out cheapest overall, even though you may pay more to begin with.
With a pre-purchase fuel policy, you buy a full tank of fuel when you collect your rental. The car hire company dictates the price of the fuel, and you won't be refunded for any petrol left in the tank. If you are not planning on doing much driving this probably isn't the best option for you. It is worth considering if you are planning on driving a fair amount and/or you know you are going to be short of time when returning your car.
Your hire car will have a full tank of petrol when you pick it up and you will have to pay the full cost for it. Again, the car hire company sets the price for fuel. When you return the car, however, the cost of the remaining fuel will be calculated and refunded to your card, minus an admin fee stipulated in the rental contract.
Super-clean

rental cars

at

PMI
Car hire companies at Palma Airport have put in place a range of new safety procedures based on the latest guidance from the World Health Organization (WHO), the Centers for Disease Control & Prevention (CDC), and local government. Although each car hire company has its own Covid-protocol, the measures taken are broadly the same – we have summarised these for you below.
The following measures have been put in place at Palma Airport car hire desks and pick-up stations:
There are social distancing reminders (e.g. stickers on the floor) at car hire desks and offices, to help customers and employees keep a safe distance from others.
Protective screens have been fitted where needed. 
All employees have been trained on health and safety standards, wear appropriate PPE (e.g. face masks and gloves) and practise good hand hygiene.
Enhanced, more frequent cleaning schedules are in place, especially of 'high-touch areas' (e.g. counters, door handles, payment facilities, etc.), which are cleaned and sanitised regularly.
Hand sanitisers are available for customers and employees.
One-way systems to direct the flow of customers have been put in place where appropriate and a limit to customer numbers at the desk or in the office has been introduced.
Car hire contracts and other relevant items of paperwork are available in digital format, although printed copies will be issued on request. 
The car hire industry is doing everything possible to help customers who need to change an upcoming booking, or who fall ill during their rental.
Most Palma Airport car rental companies provide maximum flexibility with regards to changes to the car hire (e.g. time and location) and cancellation policies, with many offering free cancellation.
For detailed terms and conditions, please check with the relevant car hire company. 
If you have chosen a car hire company located a short distance away from Palma de Mallorca Airport, you may be taken there on a shuttle bus. The following measures have been put in place to ensure that your journey is safe:
There is a strict limit on the number of passengers on each shuttle bus to or from the car hire office.
Passengers are provided with a hand sanitiser prior to boarding the bus.
Bus drivers wear appropriate PPE.
Every shuttle bus is thoroughly cleaned and disinfected at the start of each day.
Between trips, the driver disinfects handles, seatbelts and other frequently touched surfaces on the bus.
Robust cleaning protocols are in place to ensure that all hire cars at Palma Airport are Covid-safe:
Cars are disinfected after every rental, with special attention being paid to the parts that people touch the most: steering wheels, dashboards, radio dials, centre consoles, hand grips, cup holders and door handles (both inside and out), etc.
Extras such as child seats and GPS devices are removed from the hire car for cleaning and sanitising. They are then stored securely until the next rental.
After the vehicle has been cleaned according to the Covid-protocol, most Palma de Mallorca Airport car rental companies place a cleaning certificate in the car and seal the driver's door with a sticker. An unbroken seal provides reassurance that no one has entered the vehicle since it was cleaned and sanitised.
Palma Airport car hire companies are happy for you to use your own cleaning/sanitising products if you wish to give the car an additional clean and wipe-over. However, please avoid any products containing bleach as these can damage parts of the car.
Any car that is suspected to have come in contact with a Covid-positive person is immediately quarantined.
Insurance
PMI Car Hire Insurance and Breakdown Cover
Most car rental companies include cover for damage and theft in the rental price and some even include basic breakdown cover. But remember, if you claim on the insurance, you will have to pay the excess. As always, check the small print so you know exactly where you stand and drive with caution.
When you collect your car, make sure you've got a credit card (not a debit card) on you. This card will be used to block the excess amount until you return the car. If and when you return the car without any issues, the block will be removed. If the car is damaged when you return in, some or all the money could be deducted.
You can usually get out of paying the excess by increasing your insurance level. When you pick up the rental car at Mallorca Airport, the company will probably try and upsell you enhanced insurance, but this is never the cheapest option. You can pay far less if you arrange Car Hire Excess Insurance in advance. You can get a whole year of excess insurance for around €40 per year. Obtain a quote online with iCarhireinsurance.com.
Extras
There are plenty of optional extras you can add to make your driving experience in Mallorca smoother and more comfortable. Most extras are charged per day and they can end up doubling the cost of your car rental! That's why it's worth thinking about whether you really need the extras and if there are alternatives, such as bringing your own child seat or using Google maps on your phone.
Available extras with Palma Airport car hire:
Petrol Stations
Near Palma de Mallorca Airport

If you need to return your car with a full tank, the closest petrol station is a Repsol garage close to the airport's exit. To get there, you'll need to drive past the car rental drop-off point, past departures, take the first exit on the right and continue along that road until you reach it.
Airport service stations are never the cheapest, so you're better off filling up at one of these service stations close to the airport instead:
Repsol, Camí de Son Fangos, 151 …………..……..3km away
Repsol, Camí de Can Pastilla, 35 ……………………5km away
BP, Carretera Palma – Porto Petro, Km 10 …….5km away
Requirements for Hiring a Car at Palma de Mallorca Airport
Age limitations + driving experience
A lot of car rental companies at Mallorca Airport won't accept drivers under the age of 21. Anyone aged 21-25 can expect to be restricted to entry-level cars and be required to pay a young driver supplement. Senior driver supplements (generally over 70 years) also exist, with age requirements differing from company to company. Some request senior drivers to take out additional insurance.
Many companies only offer car hire to drivers who have held a full licence for a minimum of 2 years. Others may allow you to rent a car with less than 2 years of driving experience but may charge supplementary fees or request that you take out additional insurance. As the terms and conditions can differ between providers, it is best to check with the individual car hire company.
Holders of a non-EU driving licence
If your driving licence was issued outside the EU, you will need to enquire with your rental company whether you need an International Driving Permit (IDP). Some PMI car hire companies only accept driving licenses issued in the EU or the UK and request an International Driving Permit for licence holders from all other countries.
Other companies only ask for an international driver's licence if the holder's own licence is not written in English, is printed in a non-Roman alphabet (Arabic, Japanese, Cyrillic, etc) or was issued in a country not party to the International Driving Permit treaty.
Please note that an International Driving Permit is valid only if accompanied by the holder's regular driver's licence.
How to Cancel your Hire Car
Most companies let you cancel your car hire for free up to 24 hours before you're due to pick it up. Others will charge a fee. Make sure you check the company's cancellation policy on the rental agreement before you book to avoid any nasty surprises. Free cancellation policies are the way to go during this time of uncertainty.
Pick-up and Drop-off Times
By being clever with your pick-up and drop-off times, you can save yourself some cash. If you have your car for any amount of time within a 24-hour time period, you will be charged for a full day. So, if you collect your car at 10 am on Monday and return it at 11 am on Tuesday, that works out at 25 hours and you'll be charged for two days rental. Save money by arranging to return your car at least one hour earlier than you picked it up.
It's also important to note that you'll be charged extra for collecting your car during certain hours. Most companies charge a considerable fee for collections between 11 pm and 7 am, while some don't let you pick your car up at all out of office hours. So be aware if you're planning on arranging car hire when you land after a late flight, your options are going to be expensive and restricted.
Car Hire Usage Restrictions
Some hire companies or rental contracts impose mileage restrictions. Therefore, if you are planning on doing a lot of driving, you may want to double-check your mileage allowance.
If you are considering visiting one of the neighbouring islands, you will need to consult with your car hire company beforehand. Some car rental contracts do not permit the use of a ferry, others will allow it after prior notification and against an additional fee.
Please note that the use of a ferry without express permission from the car hire company will void any insurance cover you have.
Collecting your Car
at Mallorca Airport
When it's time to collect your car from Palma Airport, make sure you have your passport, credit card, driving licence, and booking confirmation (if you booked in advance) to hand in order to speed things up. If you're from the UK, you'll also need to obtain a code from the DVLA to show at the rental desk.
---
Please note: This page contains affiliate links. If you choose to make a purchase after clicking a link, Palmaairport.info may receive a commission at no extra cost to you. For more information, please also see our Terms and Conditions.