Home » Airport Info »
Cruise liner passengers
Palma cruise port is normally quite busy with lots of private cruisers, yachts, and local fishing vessels, not to mention the ferry, cruise, and cargo docks. The harbour consists of four sectors: the West Dock (Dique del Oeste), the recreational dock, the commercial dock, and the shoreline dock (Ribera).
Palma Cruise Port
The cruise port terminal is on the west side of the port, tucked away from the old town. It's a good half-hour walk (around 5 km) from the cruise port to Palma's old town. The promenade stretches from one side of the port to the other with a truly magnificent backdrop, making for a wonderful evening stroll.
At busy times, some cruise ships dock on the cargo pier, Porto Pi, due to the limited space at the cruise port. This is another 2 km further away from the old city. There are plenty of taxis to take you to the old town and back, at around €10 each way. Cruise ships also often provide a transfer to one of the tourist points in Palma from about €12.
---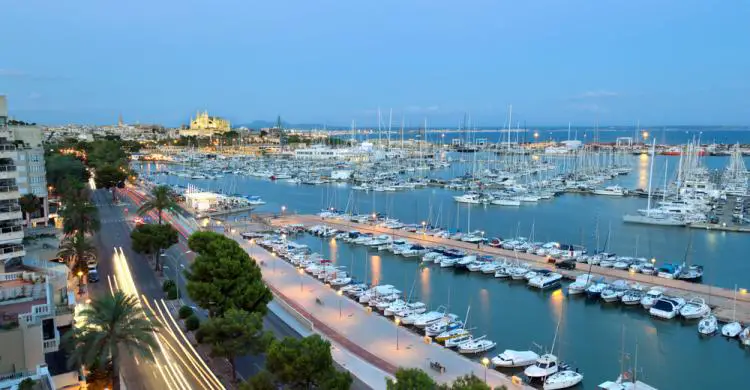 Walk from the cruise port to Palma's old town
---
Car hire at Palma Cruise Port
Palma port car hire offices are located on the road surrounding the port approximately in the centre of the port, on Avinguda Gabriel Roca 17-19. The cruise port entrance is by Avinguda Gabriel Roca 44, although it's about 2 km away from the car hire offices. Some car hire companies will meet you at the cruise port entrance.
Check-in baggage at the Cruise Port when flying from Palma Airport
You can arrange for your baggage to be taken directly from your ship and then checked in at Palma airport and loaded onto your plane. Speak with your cruise liner about this service, in advance. This way you can enjoy your time in Palma baggage-free and be all prepared to fly later.
---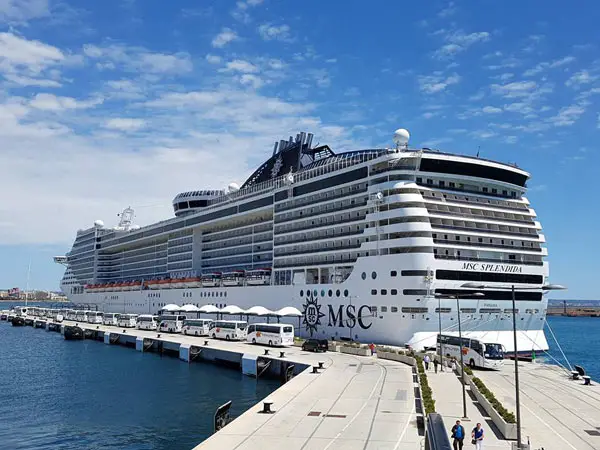 Check-in your baggage at the port when flying from PMI
---
Travelling between Palma Airport and Palma Cruise Port
You can arrange for a private transfer to be waiting with your name on a card at Palma port or airport. Private transfers are a lot cheaper when there are more than 4 people in your travel group. For example, a 1-4 pax vehicle is €24 and a 1-6pax vehicle is €37. So, for a family of five or six, €37 is much cheaper than two taxis 1-4 pax, €48. You can also take one of the waiting taxis at about €25 depending on their taxi meter.
Palma Airport to Palma Cruise Port by bus
You will need to take two buses to get from Palma Airport to the port, there is no longer a direct bus route. Coming from Palma airport, take the bus route A1 into town. This bus will take you to Passeig Mallorca, in the old town, where you will have to change to bus number 1 at either one of the following bus stops: "Instituts" (stop number 19) or  "Jaume III" (bus stop number 20). The number 1 bus will take you from Passeig Mallorca to the port.
Palma Cruise Port to Palma Airport by bus
To get from the port to Palma Airport, you will need to catch bus route 1. The port stop is number 15 Port de Palma (Estació Marítima just opposite), which takes you into town. You can change to the A1 bus at one of the following stops:
Passeig Mallorca – Jaume III (stop number 203)
Passeig Mallorca – Instituts (stop number 205)
Àrea d'intercanvi Alemanya – Comte de Sallent (stop number 1330)
Plaça d'Espanya – Estació Intermodal (stop number 598)
The journey costs €8 in total, €5 for bus number A1 and €3 for the route 1 bus.
For more information on the A1 and 1 bus routes and timetables:
Bus route A1 (airport – town)
Bus route 1 (port – town)
---
Palma Cruise Port during Covid-19
While cruise ships had not been allowed to visit Mallorca from March 2020 to June 2021 due to Covid, they have been able to dock again in the beautiful port of Palma de Mallorca since the 7th of June 2021. You can read more about this in our article "The cruise ships are returning to Mallorca".
---