Home » Airport Info » Baggage »
How luggage is handled at PMI
Bags thrown and dropped, handles ripped off. Overzealous security officers snooping through luggage. Passengers unaware their suitcase has even been unfastened. There are many horror stories about what happens to luggage after check-in. But what is likely to happen to your luggage at Palma Airport after check-in? What can you do to protect your luggage?
What happens to bags after check-in?
Luggage is conveyed away on the black luggage belts. This is the beginning of a high-tech luggage transit and security process but it's also a risky ride for baggage and contents.
The most valuable thing on the baggage is the luggage label or bag tag. This should be securely wrapped on the handle. This label contains a barcode which is scanned repeatedly by the airport computer system and automatically directs the baggage. If this label comes off or can't be read, then in ninety-nine per cent of cases the luggage will be lost or delayed. Only a name and address label, which should be attached at the very least inside, will be able to help you ever retrieve your baggage.
Another good idea is to place a copy of your travel itinerary in every piece of checked-in luggage. The luggage barcode label is just as important when baggage comes off the aircraft. The label helps baggage to get to the correct luggage carousel for the flight.
Security X-ray and CTX
Every piece of baggage has to go through the security X-ray and CTX machines (computer tomography X-ray, an explosives detection system). Anything that appears problematic on the computer screens will merit a manual inspection. The main threat that security looks for are any explosive materials. Theoretically, explosives could be hidden in baggage in an attempt to smuggle them into the aircraft's hold.
The security teams also check for contraband. If a passenger from Palma airport is trying to take something illegal or an illegal quantity to another airport, security staff will message that airport. Customs officers will then check the bags and halt the passenger. Thousands of passengers' luggage is searched each year at Palma Airport. Security teams have master keys and devices to open most locks. If they can't open a lock, the lock will be cut open and discarded.
Manual baggage searches are essential in the fight against drugs, crime and terrorism. In Europe, travellers don't need to be notified if the luggage has been searched. After all the security checks the luggage will be conveyed to a pick-up point where baggage handlers will place it onto a cart and take it to the aircraft and load it into the hold.
Baggage handler's luggage check-in tips
The most common reason people lose their baggage is due to checking in luggage at the last minute. So check-in suitcases or use bag drop machines within plenty of time before your departure.
Loss of luggage happens more often on connection flights. Try not to make connections that are too tight in time. Make sure your bag tag/luggage label is securely fixed on. The bar code has to be clearly visible. Check that it won't easily get ripped or creased. If airline personnel put this label on for you, double-check it is securely fastened and clearly visible.
---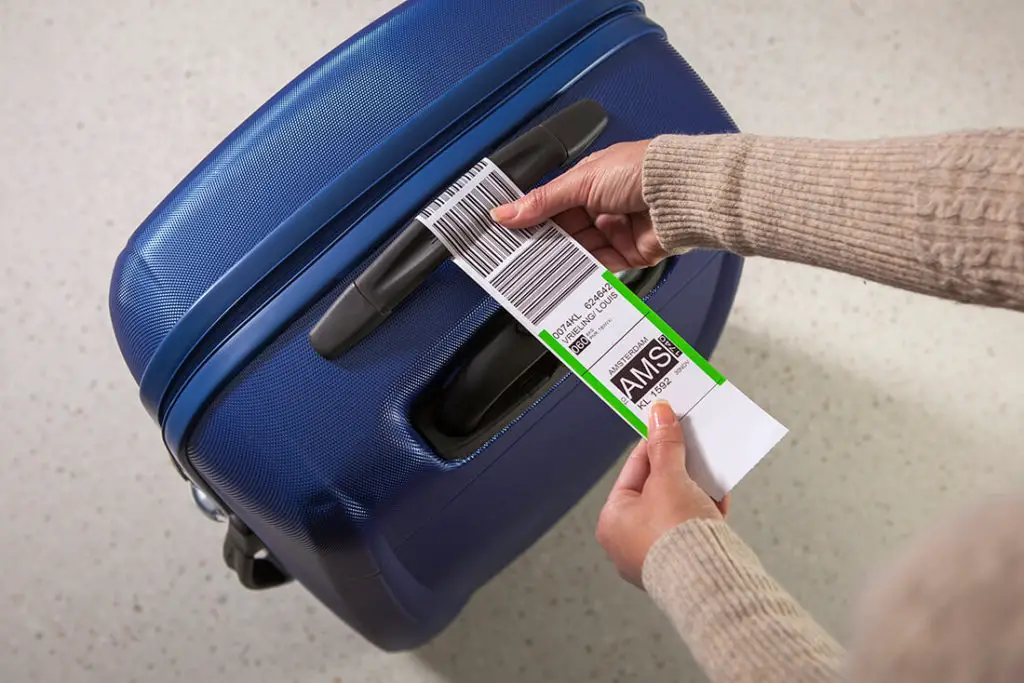 Make sure your luggage label tag is securely fixed on
---
Protect your luggage
To protect against damaged luggage, baggage handlers recommend hard-sided suitcases with wheels. This seems to go contrary to using super light suitcases to beat airline's strict weight limits. Handlers say that luggage without wheels isn't so well made and won't be so strong. They also recommend not overloading your luggage as handles of heavy cases always break.
 At many airports including Palma Airport, there are unscrupulous airport workers who will manage to beat security and steal from luggage. By using the bag wrap cling film system on offer at Palma you won't stop thieves but it will act as a deterrent. Thieves want to be quick and go through as much baggage as possible and they will likely choose another suitcase.
Also, this wrap protects against transit damage. The plastic wrapping machines are on the main check-in floor of Palma Airport, floor 2. There are two of these with personnel to help. Read more about this option on our page "Bag wrap at Palma Airport".