Beware of these little-known airport scams when travelling to Mallorca
Wednesday, November 1st, 2017

Share this Image On Your Site


While for many people, travelling to Mallorca for their holiday gives them the opportunity to relax, unwind and recharge the batteries, for some, it can turn into a nightmare. As with any unfamiliar territory, there are those who seek to scam innocent, unsuspecting tourists and this starts at the airport. Below we highlight a few scams to be aware of that take place in airports worldwide and we try and help you to avoid them:
The airport security scam!
Security at airports has tightened up a lot these days, and Palma de Mallorca PMI is no exception. Unfortunately, some scammers are actually using the security procedure in order to make off with a victim's most valuable goods!
What happens is this: You unload your valuables into a tray on the conveyor belt, and it slides off to be scanned. You wait to go through the body scanner, but the person in front of you is taking forever. He seems to have more jewellery, keys, and watches than most and he keeps forgetting to take them out of his pockets as he goes through the scanner repeatedly. Eventually, he goes through and so do you, only to find your laptop, watch, wallet, handbag and jewellery have gone missing. The reality is that the person in front of you is what is now known as a security staller, and he was holding you off so that his accomplice, who had already gone through, could make off with your belongings. Before you know what is happening, you've been fleeced, and they are gone.
To ensure this doesn't happen to you, make sure you are keeping your eyes on the belt at all times. Watch for anyone loitering suspiciously and alert a guard if you see someone that looks like they are about to make off with your goods. It is also a good idea to try and identify your belongings. If you have a Laptop put it into a brightly coloured case, try and disguise your most valuable belongings under the not so valuable things. These stallers are looking for unsuspecting victims. If you look like you have a keen eye and are watching what is going on, they are less likely to try and take your belongings.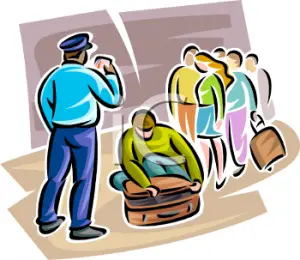 Airport pickpockets
Many people arrive in Palma tired after a long flight and keen to get to their destination. They grab their belongings and head for the baggage belt. Once they have their baggage, they wander around looking for car rental desks, exit signs or somewhere to get a drink. While distracted, pickpockets are waiting to grab the valuables which you have shoved into pockets like your mobile phones or wallets. You don't know anything about it until it is too late and you go to look for your belongings.
Make sure everything is secure. Do your bags up, don't put anything valuable in the pockets of your suitcase and keep anything of value in your inside jacket pocket or handbag – not your back pocket! Ensure that your travel insurance covers you for such eventualities so that if this does happen to you, your holiday is not a total write off.
Security imposters
The imposter security officer is something you need to be particularly aware of if you are ever stopped by someone official-looking in the vicinity of Palma airport. Of course, they may seem like a security officer and, as you are in a foreign country, how are you supposed to know any better? Scammers can dress up and pretend to be officials who then demand you pay an on the spot fine in return for letting you go free.
If this ever happens to you don't panic. Insist on seeing official identification and if necessary call the local Palma police on +34 971 789 245. Demand to see someone from the Guardia Civil or official airport security. If it is genuine, then they will be able to prove this.
Fleeced at the baggage carousel
The baggage carousel can be the stuff of nightmares for many in more ways than one. It's bad enough that you have to wait with a mob of impatient passengers all waiting for suitcases that look like yours, but you also have to watch that you don't fall prey to the 'bump and run' scam. This is when someone bumps into you, quickly apologises while you think nothing of it, and then realise later that you have no wallet!
However frustrating you find the baggage carousel, and however tired or impatient you are feeling, make sure that your valuables are safely tucked away and that you are vigilant of what is going on around you. Get towards the beginning of the carousel as well so you can make sure you see all the cases coming on to the belt and no-one has the chance to make off with yours.

Other airport scams 
In addition to these scams, there are also other things to look out for. These include:
Free Wi-Fi at airports. If it is free and you don't recognise it then beware. These can be set up by hackers who then have access to your information.
Credit card payphones. These are also something that you should steer clear of at all costs. If you have got off a flight and run out of mobile battery, credit or you can't get a signal, then you may be tempted to use them to make a call in the absence of coins. They don't show any charges and end up costing you an absolute fortune. Consider a mobile charger or wait until you can use a genuine payphone.
Taxis that are waiting to scam you. If you arrive and haven't booked a transfer but someone is waiting for you with a name card then beware. This could be an elaborate scam cooked up taxi drivers to drive you part way and then demand a hefty fee to take you any further. This problem can also happen with car rental.
The Scenic Route. Another common taxi scam is to take you the "Scenic route". While road design, traffic hold-ups or road works can force a driver to take a longer-than-normal route, there are some occasions where a driver knows that some holidaymakers may not be aware if they are being taken for a ride (literally). The best way to avoid this is to pre-book a transfer from Palma Airport online before you travel and this way you (and the driver) will know exactly what the journey costs.
Of course, we are not trying to scare you and put you off travelling, as Palma de Mallorca PMI is one of the safest airports in the world, and it's unlikely you will be scammed. But saying that, when in a foreign country, it is always wise to have your wits about you and make sure that you are extra vigilant. Book everything yourself, keep an eye on your luggage and make sure you keep your valuables safe and everything should be just fine and you can then relax and enjoy your holiday.
---