Home » Locations » Things to Do Mallorca »
Mister Scooter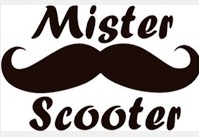 Misterscooter provide hire and rental of scooters in Majorca at the competitive rates prices. If you plan to rent a scooter in Mallorca their 50cc or 125cc automatic are the ideal means to discover the island.
You can book online in advance from their website with a credit or debit card and bank transfer. They have a 10% discount when you book online!
Their services include unlimited mileage allowing you to visit all of the island, luggage transport from the airport (ask for conditions), collection of your scooter from your hotel (ask for conditions), they will also pick you up from the airport (ask for details).
They are the only scooter rental company in Mallorca that does not charge for gas, if the scooter is returned as delivered. In their rental fee, they offer two helmets for free, one for the driver and another one for a companion. They fees also include compulsory third party insurance and 24 hour roadside assistance for your peace of mind.
Enjoy this unique and entertaining way of exploring the island. Take a control of your visit to Mallorca, don´t worry about public transport, taking taxis, or car rental and parking by renting a scooter with us and you can ride freely and comfortably.
Though Majorca has plenty of things to enjoy some of the major places to add to your bucket list are Es trenc, mondrago, Calo des moro, Cala varques, Cala Figuera, Cala pi. Drive through the attractive narrow Streets of Palma town. Visit Cap Formentor, a perfect spot for a romantic moment while enjoying the stunning sightz of the bay of Pollensa and its crystal clear waters. There is nothing more romantic than a scooter ride at sunset along the coast with your partner.
Contact Mister Scooter
Telephone: (+34) 697 402 352
Email: ade.elevation@gmail.com
Website: https://misterscooter.eu
Address: Calle Manacor,123, 07007 Palma, Illes Balears