Presented by PAI Tours
A boat trip from Puerto Pollensa along Mallorca's stunning north coast is an amazing experience and will leave you with many beautiful, lasting memories. These popular boat tours get booked out quickly, therefore it is a good idea to reserve a place!
Enjoy a Boat Trip
on a
Luxurious Llaüt
While away your time on board a luxurious Llaüt boat in the turquoise waters of Pollensa bay and beyond . This beautiful traditional yacht is 13 metres long, with a maximum capacity of 12 passengers.
Relax and unwind on the large sun-deck and admire the picturesque and stunning views of the coast and the Tramuntana mountain range. Enjoy mouth-watering snacks, delicious fruit and cold drinks in the spacious stern, which is equipped with a table and comfortable benches. Cool off, swim and snorkel in the crystal-clear waters of the Mediterranean.
To find out more, please contact us with your question or booking enquiry.
PAI Tours Terms and Conditions
Depending on how much time you want to spend on board, you can choose between a morning or afternoon half day boat trip, a full-day outing or, for an especially romantic experience, a sunset-tour. You may visit secluded little coves like Cala Murta or Cala en Gossalba, which are difficult to reach by car and stop off at stunning beaches like Formentor or Cala San Vicente, where you may have time to go for lunch. There are also plenty of other wonderful places like Caló des Moro, Bonaire, La Victoria, Ses Caletes (Cape Pinar) and Cala Figuera that are waiting to be explored.
You have the option of booking on a shared boat tour, however, if you would rather enjoy the experience in the privacy of your family or group of friends, the boat is also available for private charter.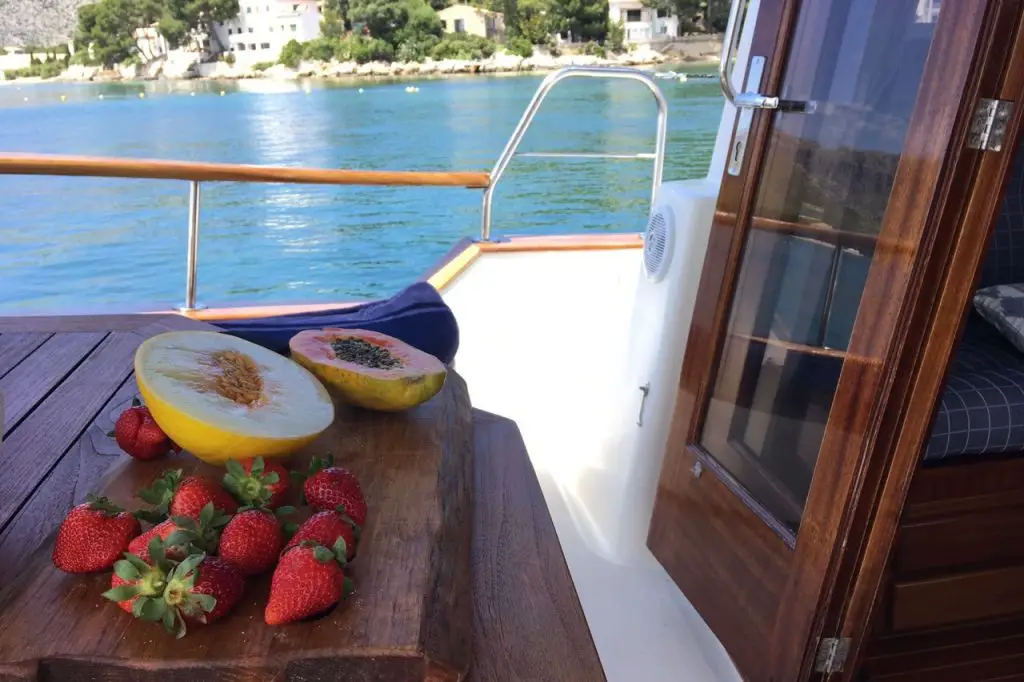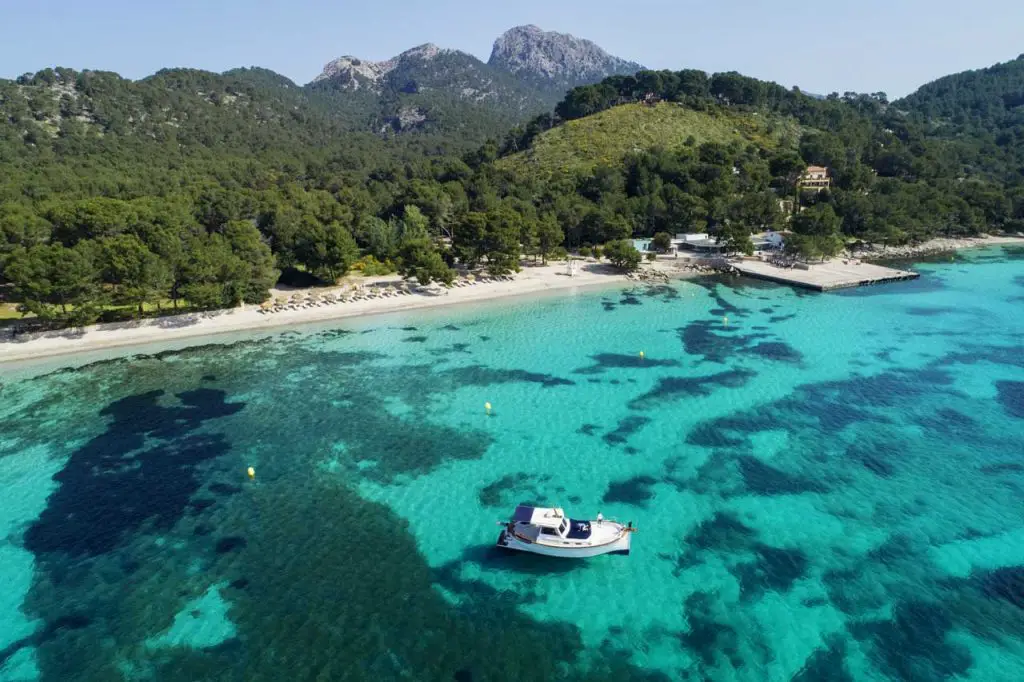 The boat tours include:
✔️Experienced skipper and crew
✔️Mediterranean snacks or fruit
✔️Soft drinks
✔️Quality beer and wine
✔️Use of masks and snorkels
For a more individualised boating experience, a variety of extras are on offer, which can be arranged for you on request:
🔹 How about wine tasting or a special meal on board?
🔹 Do you have something to celebrate? Birthday parties, stag or hen dos and other celebrations can be catered for.
🔹 You want an especially relaxing time on board? Why not add yoga or massage therapy to the experience?
🔹 You like to be active and adventurous? Then maybe exploring some otherwise inaccessible places by paddle board is for you.
🔹 And of course your transfers to and from the boat can also be arranged, if needed.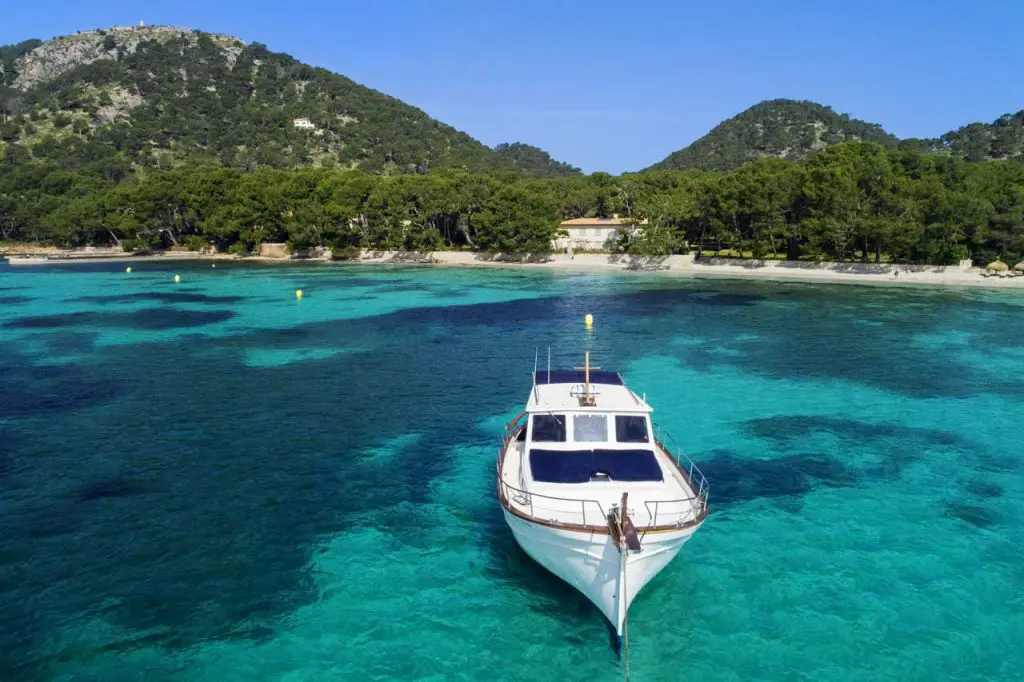 Prices for a Boat Trip on a Luxury Llaüt
Half Day
10.30am -1.30pm
or
2.30pm - 6pm
Full Day
10am - 5pm
Sunset
7pm - 10pm
SHARED
1st Oct to 31st May
60 EUR per person
90 EUR per person
50 EUR per person
SHARED
1st Jun to 30th Sept
80 EUR per person
125 EUR per person
60 EUR per person
PRIVATE
1st Oct to 31st May
500 EUR entire boat
900 EUR entire boat
350 EUR entire boat
PRIVATE
1st Jun to 30th Sept
650 EUR entire boat
1200 EUR entire boat
500 EUR entire boat
Under 3s are free.
Children from 3 to 6 years get a 10% discount.
Contact us to find out more or to reserve a place.


PAI Tours Terms and Conditions
——————————————————————————————————————–
Experience an Amazing Day on a Stunning Sailing Yacht
If you like sailing, then a trip on this amazing yacht in Puerto Pollensa is an absolute must on your holiday!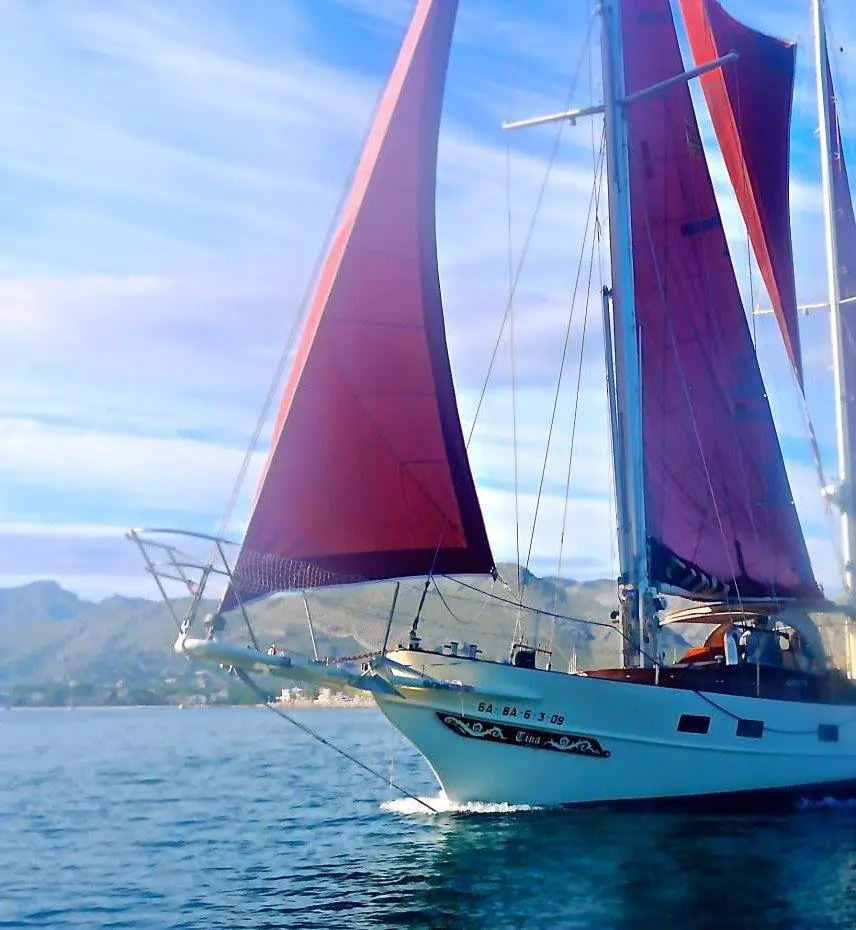 Enjoy a fun day out on this classic sailing yacht, which offers large sun decks to relax and soak up the rays, a big cockpit area to provide shelter from the mid-day sun and Bluetooth speakers that allow you to play your own music while on board. As a unique feature, this yacht is also equipped with a diving board, which provides endless fun!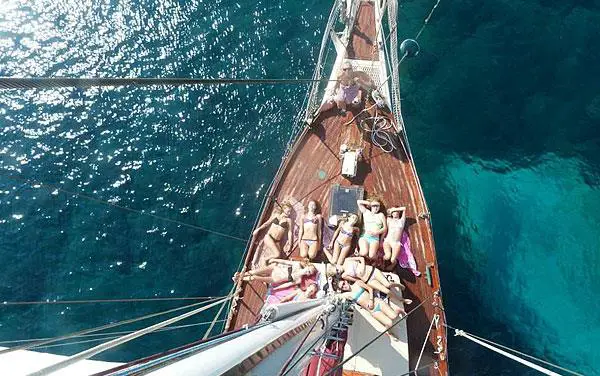 The trip will take you across the picturesque bay of Pollensa and will stop off in one or several of the many littles coves and beautiful beaches which can be found along Mallorca's North Coast. There will be time to swim, snorkel and paddle board and of course, to dive into the crystal-clear water from the diving board. Depending on the duration of your outing, you will be offered snacks, tapas or a full lunch together with chilled local wine or a glass of cava.
You have the option of a half day yacht tour or a a full day out at sea or, for an unforgettable experience of watching the sunset over the Mediterranean, you can take part in one of the popular sunset tours. All of the options are available as shared trips or as a private charter.
PAI Tours Terms and Conditions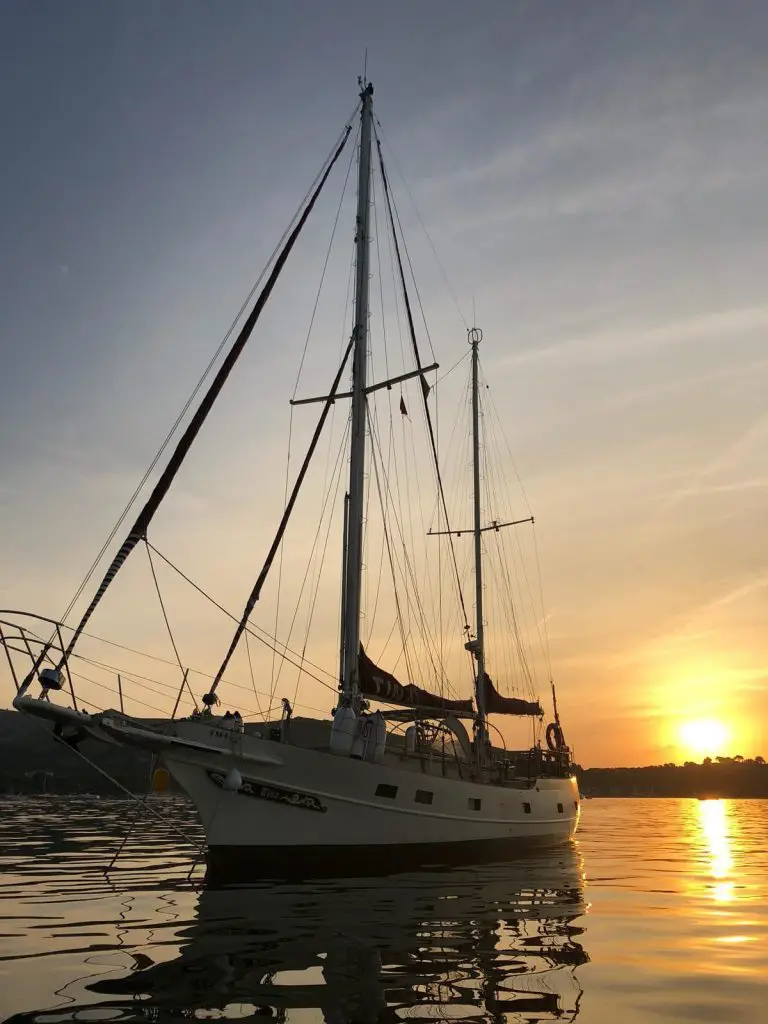 Included in the price are:
✔️ Experienced skipper and crew
✔️ Cold soft drinks and beer
✔️ Tapas, snacks or a full lunch (depending on trip duration) together with some wine and cava
✔️ Use of snorkelling equipment
✔️ Use of paddle board
✔️ Use of diving board
✔️ Sailing experience
Optional extras:
🔹 The sunset trip can include a BBQ at an additional cost of €15 per person (minimum 6 people).
Prices for a Trip on a Classic Sailing Yacht
Half Day
10am - 1.30pm
or
1.30pm - 5pm
Full Day
10.30am - 5pm
Sunset Trip
5.30pm - After Sunset
SHARED

65 EUR adult
45 EUR under 12
95 EUR adult
65 EUR under 12
65 EUR adult
45 EUR under 12
PRIVATE

650 EUR
1050 EUR
650 EUR
Contact us for more information or to make a booking.

General Terms and Conditions PAI Tours