Boat Trips Alcudia
For those who would like to explore Mallorca's stunning coastline by boat from Alcudia, the north of the island has plenty to offer. The beautiful large bays of Alcudia and Pollenca with their shallow, white sandy beaches and crystal-clear waters form a stark contrast to the steep and breath-taking cliffs around Formentor, where the sea reflects in shades of deep turquoise and blue. Along the way, there are plenty of little coves and secluded beaches to be discovered, some of which are only accessible by boat.
☀️ What kind of boat trips are on offer from Puerto de Alcudia?
With a huge variety of different boat trips and excursions available, there is something for everyone. Whether you would like to be active and adventurous, whether you prefer to sit back and relax or whether you simply want to have fun, you can be sure to find a trip that suits you.
For those who want to enjoy a whole day out on the water, there are plenty of day trips on offer, which can be a wonderful option on a hot summer's day. If you don't want to commit to an entire day, there are also many shorter excursions to choose from.
☀️ What type of boats depart from Puerto de Alcudia?
The boats come in various different shapes and sizes, and while some are relatively small and cosy, others can accommodate large groups of people. There are catamarans, motor boats, and speed boats, to name but a few.
☀️ What is included in the price?
Depending on the time, duration and type of excursion, you may find refreshments, alcoholic beverages, snacks or even an entire meal included in the price. Some operators also offer a free shuttle service to and from your accommodation.
☀️ How do I book a boat trip?
The different tours can either be booked directly at the marina in Puerto de Alcudia or you can arrange them in advance online or by telephone. The latter option is a good idea to avoid disappointment – especially during the busy periods in the summer.
Most of the operators are able to communicate in several languages – Spanish, English and German are widely spoken.
To give you a flavour, we have summarised some of the different types of boat trips and excursions on offer from Puerto de Alcudia, some of which also visit Pollensa bay, Cap Formentor and surrounding areas. Similar trips can be found around the rest of the island.
Relaxing boat tours from Puerto de Alcudia
If you are looking for a relaxing time out on the water, a trip on a sailing boat or catamaran might be exactly what you are after. Here you can admire the views of the coast and the Tramuntana mountain range, while sunbathing on deck with a refreshing drink in hand.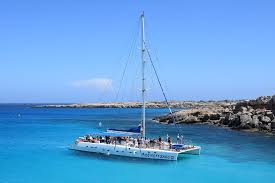 The boat may anchor for lunch and often there is opportunity for swimming, snorkelling or fishing. There might be time to explore secluded coves and beaches, many of which are difficult to access by car.
Another option is a romantic sunrise or sunset cruise along the coast. While the former may include breakfast, the latter will usually have snacks, tapas, cold drinks or wine and cava on offer.
Exploring by boat from Puerto de Alcudia
If simply relaxing and whiling away the time on a boat is not for you, there are also plenty of options that will allow you to explore the beautiful waters in the bay of Alcudia a little more closely.
Glass Bottom Boat
If you fancy exploring the underwater world and its marine life without getting wet, a trip on a glass bottom boat might be for you. These trips usually take around 2 to 3 hours and may include the opportunity for some snorkelling, in case you do want to get a little closer to the action, after all.
Dolphin watching
Have you ever wanted to see dolphins in the wild? There are several boat trips on offer that take you to those spots where you are most likely to encounter these fascinating animals.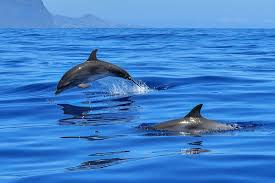 These tours usually depart very early in the morning and therefore you also get the opportunity to watch the sunrise, which can be quite a spectacular experience in itself.
Snorkelling and Scuba Diving
A lot of the boat excursions offer an opportunity to do some snorkelling and there are plenty of sheltered and tranquil little bays with crystal clear water, which are ideally suited for this activity.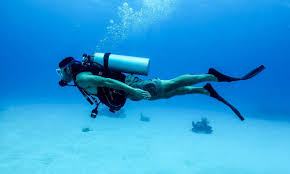 There are also several dive centres in the area, which offer different trips for divers of all levels; from easier, shallow dives for the less experienced to more challenging excursions for the expert diver. If you are not a certified diver, you can enrol on a dive course, or book a trial dive.
Exciting boat trips from Puerto de Alcudia
For the more adventurous-minded, there are also plenty of options to choose from.
Speed boat trips
For the thrill-seekers amongst you, a ride on a speed boat may be of interest. The boats whizz across the sea at roughly 80 km/h; trips usually last around one hour and depart several times a day.
Jet ski hire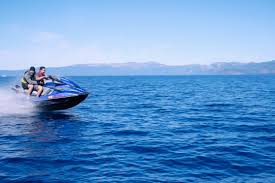 Jet skis can be hired either alone or in pairs and a boating license is not required for this. Different options are available, from a short jet ski ride out at sea, for those who may simply want to get a feel for it, to slightly longer guided excursions, with the opportunity to explore secluded bays and beaches along the way.
Parasailing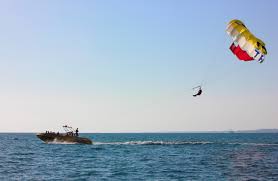 If you fancy admiring the coastline from above the water, then why not have a go at Parasailing? You can do this on your own or in a group, with no previous experience needed.
Banana boat riding
This can be a fun way to cool down on a hot day! There are various different inflatables to choose from and the activity can range in duration from around 10 minutes up to 1 hour.
Going further afield
If you want to venture a little further afield, why not go on a day trip to Menorca? Depending on which ferry service you choose, the journey from Puerto de Alcudia to Ciutadella de Menorca takes between 1 to 2.5 hours. You will have several hours to explore the town and surrounding areas before your ferry takes you back to Mallorca in the evening.