Home » Hotels » Hotels Across Mallorca » Resort Hotels Mallorca »
Galeon Suites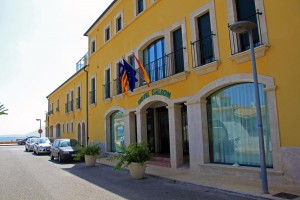 Hotel Galeón Suites is in the north of Mallorca in Port de Pollenca.  The hotel is situated on the beach front and is just 2 kilometres from the centre of Port de Pollenca.
This exclusive hotel has 14 large upmarket suites all equipped with the necessary amenities so as to make your holiday as pleasant as possible.
The spacious layout of the suites therefore makes them ideal for large families and groups but at the same time for couples.  The suites are thus suited for groups of between 2 and 10 guests.
In addition to comfort Hotel Galeón Suites offers tourist services so as to make the stay much more satisfying.  These services include; trips to Mallorcan wineries, tours to Pollenca's main attractions and special events held on the hotel's chill-out terrace, to mention a just a sample.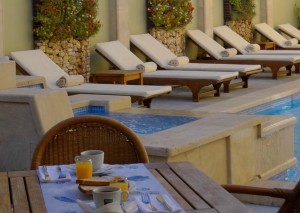 The Hotel also boasts its own restaurant, Restaurant El Galeón, which is special because it overlooks the bay of Port de Pollenca.
The restaurant offers cuisine that is a mix of innovation and tradition, therefore serving exquisite Mallorcan creations.  There is a menu showcasing Mediterranean food, all prepared with fresh ingredients from the season.
The novelty of the restaurant is that dinners can enjoy their meal and marvel at the best sea views of the bay and beach.  Special offers are available on the hotel's website.
Hotel Rooms
The accommodation at Hotel Galeón Suites comes in six types: single use rooms, standard suites, suites with sea views, suites with two double rooms, suites with three rooms and a suite with a terrace that has views of the mountains.
The apartments at Hotel Galeón all have a living room and the usual amenities associated.  Because of the comfort of these facilities, such as a sofas and en-suite bathrooms and kitchens, it makes the hotel a luxury home form home.
Naturally all apartments include air conditioning, heating and free WiFi.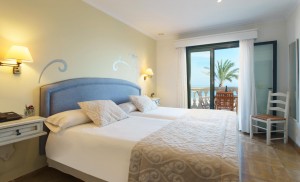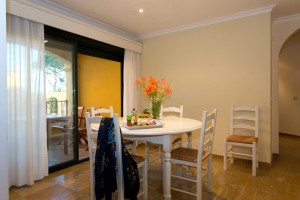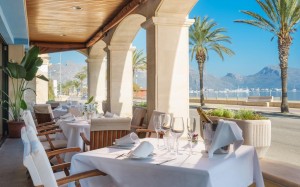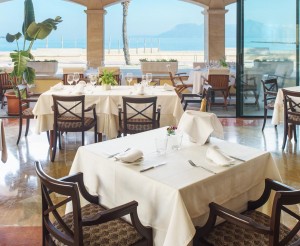 Views from the Hotel
The views from the hotel overlook the beach and bay with other rooms overlooking the mountains.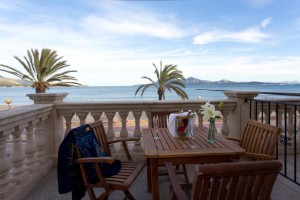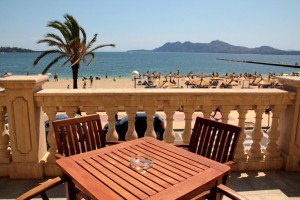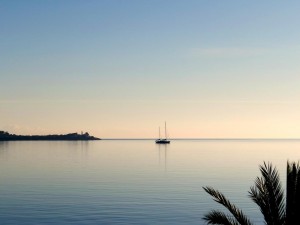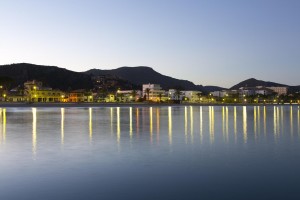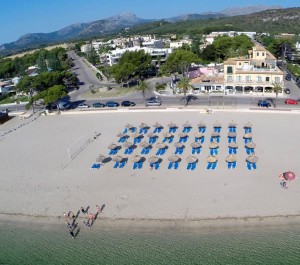 Mini Health Spa
One understated advantage of the hotel is that all apartments include free access to the sun terrace, outdoor pool  and wellness area.  So because the wellness area is free and includes a sauna, spa bath and Turkish bath it's a real treat!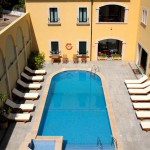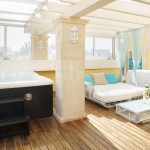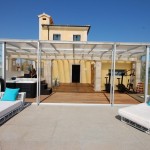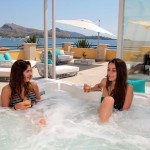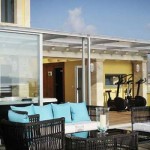 The hotel is only 55 kilometres (34 miles) from the airport and the capital Palma.  It is located in Llenaire, only 2 kilometres (1.2 miles) from the heart of Port de Pollenca.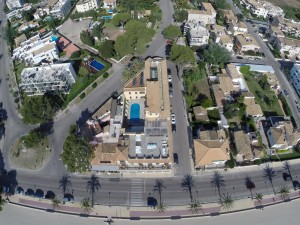 Contact Galeon Suites
Telephone: (+34) 971 105 575
Email: info@galeonsuites.com
Website: www.galeonsuites.com
Location: Passeig Londres, 84 – 86 07470 Pollensa, MALLORCA