Car Hire Companies Palma Airport
At Palma Airport there are a lot of car hire companies offering their services.   However currently only around half of these are actually located in the airport grounds.  Although the car hire companies off-site are only a few minutes away by shuttle bus, being next to the airport.
Where car hire companies are located at Palma airport
If you opt to use one of the car hire companies inside Palma airport you will find the majority of car hire desks
located together in arrivals by the baggage reclaim belts, by belts 9-11. The car hire desks are easy to find, just follow the baggage reclaim and car hire signs.  They are on floor 0 of the terminal building.
These same offices are also in the public arrivals hall as they have a window counter on each side of their office.  So if you leave the baggage reclaim area and enter the public arrivals area you can still access the car rental desks.
There are also additional car hire desks in the public arrivals area, in car park on the ground floor and on floor 4. Additional car hire companies have representatives at the airport but have their offices and vehicles offsite.
Off-site companies often have more economic rates.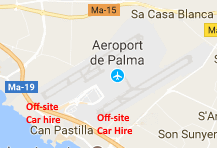 They will either deliver their cars to the airport or in most cases provide a free and easy shuttle bus.  The shuttle bus will take passengers to the adjacent car hire lot.
The majority of the car hire companies have their cars in the large multi-storied park house in front of the terminal building.  When you have collected your keys a member of staff will give directions as to where in the car park to find your car. The car park is connected to the Terminal building by walkways and is easy to reach.
Tips
Nobody likes queuing for ages after a lot of traveling so endeavor to be the first from your flight to queue at your car hire desk.
If you can't physically get ahead, try and reduce the time queuing at the car hire desks by having someone from your party wait to collect hold luggage while you go ahead. This is so as to beat the unavoidable rush from other passengers heading for the same desks.
When collecting your car, don't let yourselves get crowded or distracted by people who may be trying to steal from you, nor leave your bags alone.
Try and also book extras like, satellite navigation or child seats when making your booking, principally during the summer months when supplies may run out.  During the summer months of June-September air conditioning is a must!  Remember child seats are compulsory in Spain for minors less than 135cm tall.
For named drivers, make sure each driving license is with you when collecting the vehicle.
In summer air-conditioning is essential.  It's therefore best to book a vehicle with it for the months of June through to September.
Consider taking out extra insurance so as to reduce your liability to nothing.
Take time to thoroughly look the car over for any damage or scratches.
Tips on Rates
Car hire companies use varying methods to set their rates, although supply and demand is one of the greatest factors.  Hence try to book as far ahead of time as you can as this frequently guarantees the best rate, if not for peace of mind in having it booked and knowing that you will get the model of vehicle want.  Many book their hire car as soon as their flights are booked.
If you are thinking about travel options during the low season,  it is well worth checking out the prices as there are some extremely cheap deals on offer. This is because companies have many cars sitting around in parking lots.
Experiment with the search box above by putting in off season dates and see how low prices are, some cars start from around €20 for a week!